Since life is quiet lately, I thought I'd share some of my recent favorite photos. Though Turkey has a great number of modern people who look much like the rest of us, it's the unique characters who attract my attention. Unless they're performing, I always ask, "Foto cekebilir miyim?" (May I take a photo?)
THE LITTLE PRINCE
The little boy dressed in what looks like a prince costume is exactly that—someone's precious little prince. He's dressed traditionally for the huge celebration before his circumcision, and everyone will be invited. A circumcision is like a wedding reception here. My friend David said they had one in his little town of Yasibey, and the entire populous joined the celebration for this rite of passage. Poor little guy—little does he know what lies ahead…or does he?

STREET SWEEPER DUDE
The street sweeper is a pretty regular-looking guy, but I wanted to share how the streets are cleaned in much of Istanbul. Workers in rubber boots sweep the street using bucket scoops and twig brooms, and they do an amazingly fine job of keeping things clean. Some areas of the city actually have street-cleaning trucks, but they're rare, since cobbled, winding streets make it hard for trucks to maneuver.

JUNIOR SONGBIRD
Last weekend I came upon a group of street musicians in Kadikoy. Three men played instruments and sang, while a small boy in wire glasses performed heartfully before them as he held the donations box (which seemed unnecessarily large). What stole my heart was that this little boy not only sang from his heart, but his voice was beautiful. Clearly the star.
BIRD WOMAN
The next day on a walking tour, I snapped a few photos of a gypsy sitting outside the Beyazit Mosque selling jar lids of birdseed. It brought back the bird woman scene from MARY POPPINS: "Feed the birds, tuppence the bag…" I didn't have tuppence, but I gave her the change from my pocket and happily scattered my seeds.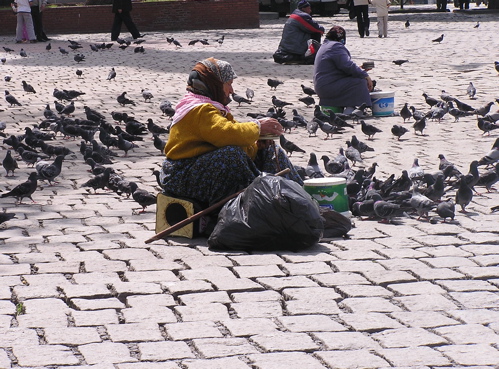 BOREKCI
Later on the same tour, Edda led us through a tiny doorway into an ancient han (workshop). She had called ahead to have her favorite borekci (borek baker) meet us there with a tray of his breads. He bakes on the third floor of a nearby building and carries the tray and a small stand down to the street to sell his wares. He keeps a roll of papers in his apron for handling the hot bread. His sweet apple rolls were to die for, but his potato borek was sheer ambrosia. He wants a job as a security person at a hotel, which would be a boon for him, but a great loss to us borek lovers.

SIMITCI
I also caught a photo of a simit seller as he walked by. Simits are a traditional bread sold on the streets everywhere in Turkey. It's like a huge bagel with sesame seeds on it, and often the simitci (simit seller) carries his wares on his head, as this man does.

THE CAP MAN
In another of the hans I peeked my head into a workshop where three men worked at sewing machines making baseball caps. They joked with me when I asked to snap their photos, insisting that I take a photo of the patron—the owner of the business, who was at a machine set above the other two. There's a band of ribbing hanging from the wall, and he sews that into the crown of the cap, stitching in the brim as well. Another man had already done the crown, and the last one stitched in the back adjustment strap. BORING work, to be sure.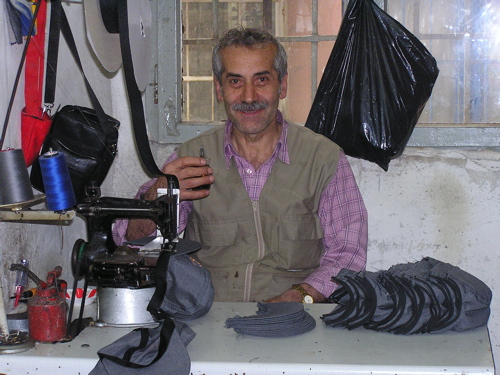 MR. TAKSI BEY
The boat taxi photo has a story. My friends Chris McClure and Ginny Hahn (and Ginny's sister Kathy) visited from Grand Marais, and I took them to Eyup on Sunday morning. We missed our ferry back down the Golden Horn for a whirling dervish performance—most upsetting. This man came up to us and offered us a ride in his small boat for a mere four times the cost of the ferry. Did we care? The next ferry wasn't leaving for an hour. I think he'd been watching Home Improvement, because I'm quite sure his inboard motor (under a wooden crate) was actually a refurbished lawnmower engine. Whatever!

AND A SWEET, SHY FELLOW
I have little to say about the last photo but that this man was just too sweet for words. Dressed in a sportcoat, crumpled hat, and fingerless gloves, he reminded me of Red Skelton's Clem Kaddidlehopper. He was chatting on a cell phone when I met him on the street. I like to think it was with his sweetheart who couldn't wait to meet their new kitten.