I was pleasantly surprised when I first saw my lojman (apartment). In fact, I was actually charmed by it's sunset balcony overlooking the distant hills of Istanbul. I was soon to learn that there were both ups and downs about life on campus, though I've been very happy here.
A lojman balcony sunset:
What do I like? Well, though my lojman is nowhere near as large as my home in Minnesota, the two bedrooms are very comfortable (I use the small one as an office), the storage space is more than adequate, the living room is bright and cheery, and the kitchen and bath facilities are fine. I got busy decorating immediately, though, to bring my lojman from serviceable to friendly. I found some posters and frames at Ikea, then scrounged for picture hangers at a hardware store, and within weeks my new home was not only comfortable but attractive as well. Add a few candles and a fan (it's HOT here in August), and it was delightful. It doesn't take long to amass Turkish brick-a-brack (and rugs) to make your lojman a home.
My lojman–living room, kitchen, and bedrooms…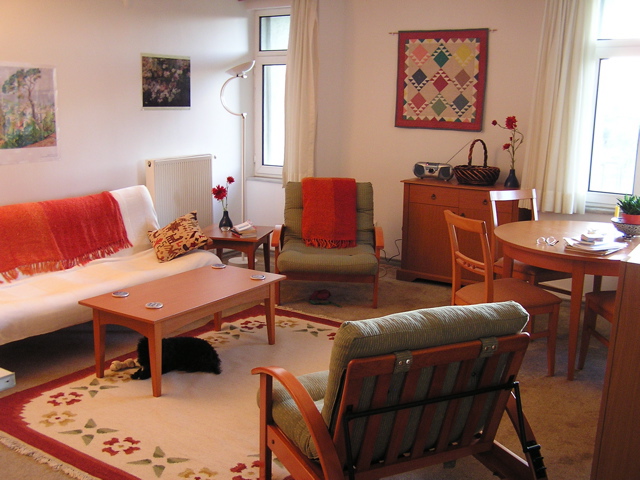 The family lojmans are more than twice the size of the singles, with three bedrooms, two baths, a huge living room, a dining room, and a kitchen (as well as an upstairs balcony). Some of them even have a sunken living room—very cool!
–
I was surprised to learn that we also have a social center in our little campus living complex—complete with a bartender five nights a week. The social center is open every night (it's used for preschool classes on weekdays), and we often have social gatherings there: movie nights, game nights, baked potato night (a weekly potluck affair), and special events like music performances, wine tasting, and holiday gatherings. It's a great way to connect with people, and on Wednesdays drinks are half price. Such a deal!
Game night at the Social Center:

(Don't lose sleep anticipating the joys of Turkish wine. You'll be disappointed.) By the way, the people here are delightful. Reach out to build friendships, and you're sure to enjoy yourself.
Christmas Party at the Social Center–Mollie and company!

One challenge is that the campus is very isolated. There's no place you can walk to for groceries or dinner or even coffee. Everything is too far, and the road is WAY too dangerous to walk or bike on. (The driving here is scary.) I'd had visions of biking to the Marmara (which is only 5K away—impossible ).
The Security Gate–you're well protected!

The good side of the isolation issue is that Ilyen, our saintly liason, sets up service busses to get us off campus many times a week. There are grocery trips during the week, and on weekends there's a street market bus, a Friday bus to the movies (or to do whatever you choose in the area of the city you visit), a Saturday bus into the city, and a Sunday church bus into Taksim. The options are varied, and if you took advantage of every service bus, you would seldom be on campus.
–
If you choose to trek out on your own (which you will), public transportation will get you there, but it takes forever. A trip on public transport to the city entails:
1. a 10-minute walk to the road (through the security gate)
2. a 40-minute mini-bus ride to Pendik (after as much as a 20-minute wait)
3. a 35-minute train ride to Kadikoy, the end of the Asian side (after another wait)
4. a 30-minute ferry ride to the European side (after yet another wait)
5. a tram ride up to Sultanahmet or the Grand Bazaar or Taksim or wherever you choose.
In other words, you have to plan about 3 hours to get to or from town on your own. Of course, a taxi is an option if you're feeling rich.
Istanbul ferries–you'll love them!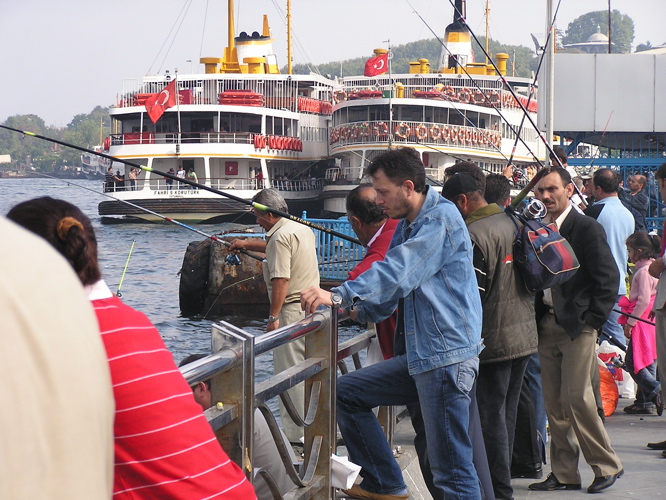 We do have a nearby airport (Sabiha Gokcen), which has many bargain fares to places like Germany and London and all over Turkey (which you'll want to explore). The ugly side of that is that Koc is in the flight path. The first night I thought my life was over when a plane skimmed the top of my lojman. I've gotten used to it, and I appreciate the convenience of Sabiha flights.
–
Our saintly Ileyn is here to help with any problem that may arise, from medical emergencies to water delivery. Oh, yes. The tap water is pretty bad, so you buy huge 19-liter bottles for drinking water. My friend Terri even uses it for her pets. I'm not that nice. Libby gets tap water.
–
Many of us walk the 3-K loop around campus every day, which I must admit gets old if you don't have a walking buddy, and there's now a fitness center in the new Student Social Center by the high school. Hopes spring eternal for a pool in the future. Hmmm…
Gosh–what else? If you have questions, feel free to email me: amershon@boreal.org. I'd be happy to answer whatever I can.
–
I have to say, I've loved my time at Koc. As you know, nothing's perfect, but this has been a wonderful adventure. I'll leave still loving it. That's a good thing.