Food. One of the best things about Turkey. Really—it's healthy, it's fresh, and it's delicious. Delectible. Scrumptious. Something to look forward to every single day.
So—for my friends (especially Karen), here's the lowdown.
Kahvaltı (breakfast): a typical Turkish breakfast consists of black olives (think of calamatas), fresh sliced tomatoes, sliced cucumbers (that actually have flavor), beyaz peynir (cheese like a soft, moist feta or goat cheese), often an egg (usually hard-boiled), and limitless supplies of bread, honey and tart cherry jam. Other things we find on breakfast buffets are dried apricots and figs, succulent golden raisins, and sometimes nuts. If you're really lucky, there's clotted cream and fresh butter on the table—YUM!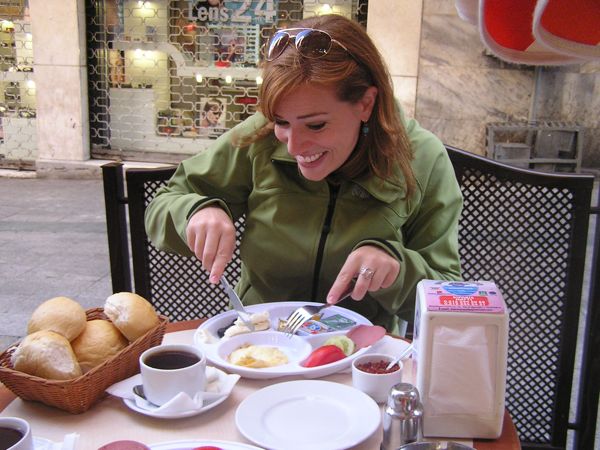 Lovely Leslie dives into a Turkish breakfast
Me diving into a Turkish breakfast
Turks enjoy going out for breakfast at restaurants along the Bosphorous, particularly near the Rumeli Castle. The breakfast takes hours, complete with all the above along with an egg dish called menemen: eggs, tomatoes, sausage, and peppers baked in a single-serving copper casserole dish. Lovely—and delicious.
Breakfast on the Bosphorous with friends
Öğle yemeği (lunch): I often see people enjoying a simple meal of mercimek (lentil soup) and bread with water and tea.
The typical mercimek soup, which comes in both green and red–depending on the lentils.
Many, though, choose to have a full meal at noon. That's when I eat my main meal, as I have the great fortune of being offered a full Turkish noon meal at school, always with two main course offerings, soup, dessert, vegetables, and a full salad bar. Consequently, I've tasted nearly every possible Turkish dish.
Akşam yemeği (dinner) is pretty much the same as lunch here—some people have their big meal at night, and some prefer a light meal. Turks tend to eat later in the evening.
I'll just mention some of my favorite Turkish dishes. Getting hungry?
Köfte (Turkish meatballs). Made in all shapes and sizes (from ovals to long, thin "sticks", köfte are usually grilled, and my favorites are the highly seasoned varieties.
Köfte—web photo from damak.net
Fasuliye is a dish remotely like baked beans, but about ten times nicer. It is usually made of white beans a little larger than navy beans, and I don't know what they put in the sauce, but they've got it down, let me tell you.
Fasuliye–web photo uploaded to Flikr by Julie Upmeyer
Döner is meat that has been spiced and stacked on a vertical spit, which turns and turns in front of a vertical burner. As it cooks, a chef slices it off to use in sandwiches and other special dishes. It's usually made of lamb, but it can also be chicken. This is what the Greeks put in gyro sandwiches.
This meat doesn't look quite cooked to me, but…
Iskender is probably the most popular dish in Turkey, at least among my students. It's a plate of chopped pide bread covered with a layer of lamb döner. This is drenched in a tasty tomato sauce and dolloped with yogurt. The crowning touch is melted butter drizzled over the entire plate. It's served with sliced tomatoes and peppers. Oh, my! You haven't LIVED until you've had Iskender. By the way, Iskender means "Alexander", for Alexander the Great. Go figure.
The home of Iskender in Bursa, with friends Lisa and Dan.
Şış, known by Westerners as shish-kabob, is a typical Turkish meal, made with chicken, lamb, or beef. No pork here, though. Not in a Muslim country. Most restaurants have an open copper-hooded barbecue, with a separate grilling chef. They get mighty good at it.
Looks more like chicken wings than şış, but it's grilled and GREAT!
Guveç is another of my favorites, an individual low casserole of some kind of meat baked with tomato sauce, spices, peppers, onions, and sometimes cheese. My favorites are shrimp and fish guveç. I'm bringing some guveç casserole dishes home with me. This is a dish I'd love to master.
Ah–guveç!
Mantı is another favorite here, sometimes described as Turkish ravioli. It's tiny little ravioli, less than an half-inch in diameter, filled with meat or cheese and formed into little cubes. It's served in a pasta bowl with a yogurt and garlic sauce. Tonight for dinner I had fried mantı swimming in yogurt garlic sauce with some hot tomato/chili sauce. Incredible.
mantı–web photo from www.mfertas.com (a personal blog)

Pide is a flat, bumpy yeast bread baked in a wood-fired oven, but it's also Turkish pizza. It's shaped like a torpedo with two pointed ends and a topping of cheese, meat, and/or vegetables is arranged in the middle. It arrives at your table piping hot and crisp, often cut into diagonal slices. It's GREAT with mercimek soup and a glass of ayran.
Our favorite pide restaurant in Cappadocia
Hot, crispy pide
Ayran is a refreshing drink that tastes a little like buttermilk (they say). It's blended yogurt, water, and salt. I love it.
I haven't said anything about mezes yet. Inexcusable. When you go out for dinner in Turkey, your first offering is a huge tray of mezes. These are hors d'oeuvres, Turkish style. There are small bowls of such things as cacik (cucumbers and garlic in thinned yogurt), olives, hummus, pickles, haydari (yogurt, garlic, and cheese with spices), cold fish, wrapped grape leaves, and my VERY favorite, grilled eggplant mashed with yogurt and garlic. Oh, my! There are hundreds of mezes, and it's hard to choose what to have. Usually I'm pretty full by the time the mezes are over, and the main course goes barely tasted. I love them! I prefer when they bring one plate of mixed mezes for each person. No decisions required. There are also hot mezes—fried filo-wrapped cheese (cigara boreği) and fancy deep-fried meatballs…oh, the list goes on and on and on.
A meze plate at the Hamdi Restaurant in Sultanahmet
The meze plate at our end-of-year Koç School dinner.
I haven't even mentioned fish, which Turkey is famous for. It's a country surrounded on three sides by water, with a small sea within it. Fish can be expensive here, but it's nearly always tasty. Although I love grilled fish, my two favorite dishes are balık köfte (fish formed into patties with herbs, then grilled) and balık guveç (a flat casserole of fish in a tomato and olive oil sauce with peppers, garlic, and onion). Oh, my mouth is watering!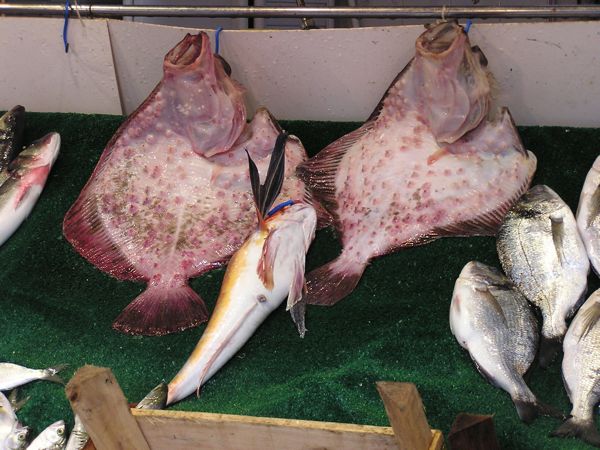 These fish may not look all that pretty–but they're DELICIOUS cooked!
Gosh—and then the desserts. But I'm just too darn full! Maybe next time.
When we're full, the best dessert is always fruit.
You know what's amazing? With all these fabulous foods, the Turks just don't get fat. Their diet is based on vegetables and meat, and they walk a lot. Good plan!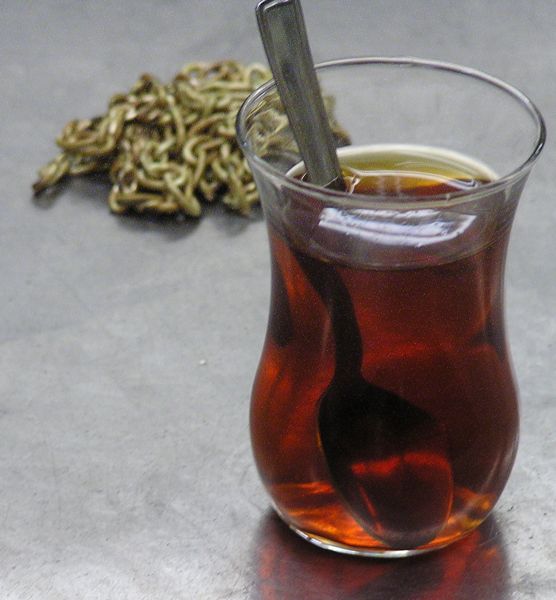 And a cup of tea to settle your stomach. Sigh…
Does it get better than this?