Stuttgart, Germany. Mercedes. Porsche. The Stuttgart Ballet. Yup. Not too shabby.
Why Stuttgart? Well, I was asked to chaperone the Robert College Debate Team for the European Debate Open Championship.
We were greeted at the airport by our hosts from Waiblingen (a Stuttgart suburb) and given train tickets good for the week. We hopped on the train to our respective "homes"—the students with host families, myself in a hotel. I found my way to the Romantica Central Hotel  in Winnenden (really!—but no romance) and checked into my shared room. The room, lovely as it was, had only one bed. Now I'm happy to share a room with a stranger, but a bed? Come on! Since they had no more rooms with two beds, I landed in a private room.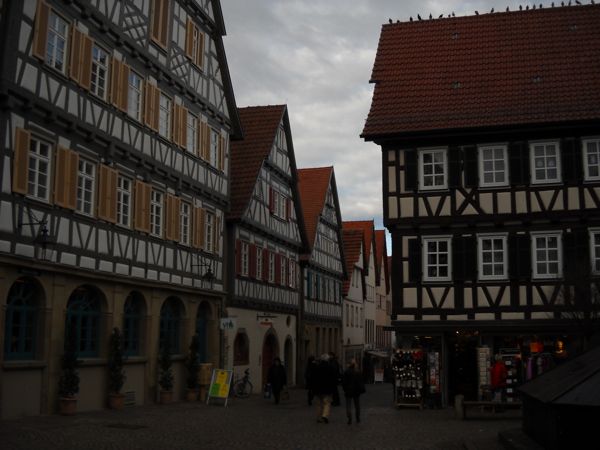 Winnenden, my home for the week.
The hotel breakfasts were awesome (eggs, meat, cheese, fruit, cereal, bread, and all the milchkaffe I could drink), and I enjoyed getting to know the other coaches. Competitors for this event included teams from the Netherlands, Belarus, Slovenia, Israel, Korea, Romania, Canada, The Czech Republic, numerous German communities, and, of course, Turkey.  Each day there were morning activities followed by a lunch and two afternoon debates. We were on our own for the evenings, which many students devoted to preparing the next day's debates.
A Welcome Window at one of the host stchools
The first morning we were treated to a wet walking tour of the city center. Only half of us had umbrellas, so the day's drizzle dampened more than our spirits. Near the end of the tour, we peeled off to imbibe in Christmas Market crepes and brats.
The highlight of my rainy morning was finding the State Theater, home of the Stuttgart Ballet. After inquiring at the box office, I was approached by a young Slovenian debater/dancer who asked if I planned to see a ballet. We were both eager to attend the Tuesday performance. Because of late debates, we wouldn't make the 7:00 curtain, but we'd be thrilled even to see the second half of a ballet.
After Tuesday's final debates, we raced off to the S-bahn train to Stuttgart. Spirits soaring, we found our way to the theater, then waited impatiently for intermission. Ziva purchased a book, I donated to World Aids Day, and we gawked at the sumptuous décor of the lobby's marble columns, plush carpeting, classical friezes, and dazzling chandeliers. Cocktail tables were set with hors d'oeuvres and champagne for the intermission.
The lovely Slovenian ballet dancer, Ziva, in the lobby of the Stuttgart State Theater
Once we checked our coats, though, reality set in. They examined our tickets and immediately directed us upstairs to the next level, considerably less extravagant. When we showed our tickets to that coat check, we were dispached up yet another flight of stairs (uncarpeted), to a rather barren lobby. Class systems exist everywhere, I guess. It reminded me of the London theaters, where low-priced seatholders use a side entrance.
We swallowed our pride and waited for the endless pre-intermission applause to abate.
When we finally got in, we were once again met with lavish décor: more chandeliers, tastefully classical trim, and a stunning recessed ceiling painted with mythological figures in a night sky (which we could almost touch from our $30 nosebleed seats).
The theater's constellation ceiling painting
Once the lights went down, though, the magic began: dance to a choral requiem by Gabriel Fauré. Black-robed singers filled the orchestra pit, with a small orchestra beside them. The curtains opened to reveal a stark white stage with an assembly of dancers in variously decorated white leotards as they shuffled onstage in a mass, swaying their torsos and arms in repetitive sweeps to the music. Soon they divided to mesmerize us with stunning ensemble and solo dances, a marriage of ballet and modern dance. What can I say? Never in my life have I experienced a more spellbinding dance performance, and who would have thought vocal music and dance could blend so beautifully? We were impressed far beyond our expectations. The performance was over too soon, and Ziva and I had to pinch ourselves. "We've seen the STUTTGART BALLET!"
The act ended to thunderous applause. Dancers and soloists took bow after bow. Fortunately, they had choreographed numerous bowing sequences, each of which must have been repeated three or four times. I think the applause lasted nearly ten minutes. Understandably.
The week continued to improve. The next morning we enjoyed a tour of the sparkling new Porsche museum; I'm not sure whether I was more struck by the displays or the architecture, but both were impressive.
An early sportscar design
Couldn't resist.
The view from the 3-story escalator looking out over a roof.
After that we stormed a city bus to the afternoon's venue for the afternoon debates. That afternoon's prepared topic was "There is no rush to applaud Obama." Interesting that the world is so focused on our American president. My students paced the school courtyard as they planned and practiced their points. (Unfortunately, they lost.)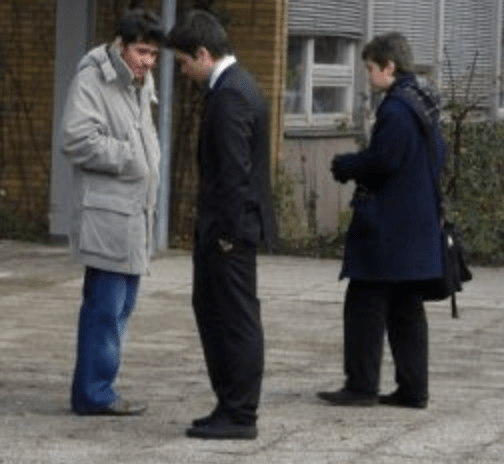 Dedicated debaters pacing the school courtyard as they rehearsed their presentations.
That was the last of four days of preliminary debates, and the Turkey team had won five of eight. Two of their losses had been split decisions, so they hoped to make the quarter-finals. We wouldn't hear until Thursday afternoon. ARAUGHH!!! I told them not to expect it, but to be prepared.
Our morning was spent touring Karcher, a world-wide cleaning equipment manufacturer. Though we expected to be bored, it was fascinating, and they treated us like VIP's. Karcher recently cleaned Mount Rushmore—for free. Amazing. They sent us off with a new cap, a professional photo of the group, and a belly filled with butter pretzels and a delicious lunch.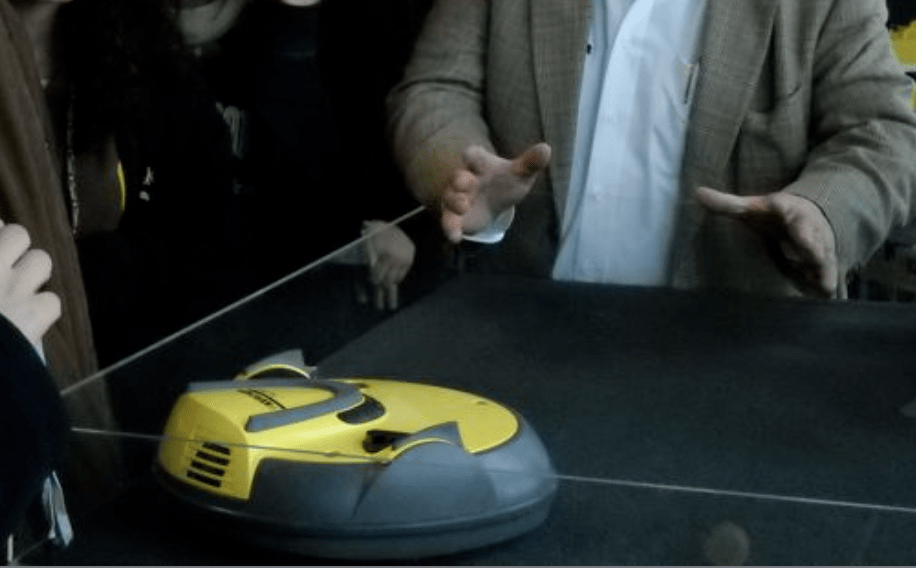 A demo of Robby, the small robotic vacuum cleaner. Cost: $1500
Then came the big announcement. Turkey came in 7th place, which gave them a spot in the quarter-finals. HOORAY!!! For their second debate contest ever, this was an exciting moment. Last year Robert College attended only one tournament where they won only one debate—and this year the quarter-finals!
They had an hour to prepare, and their topic was "This House Believes that David Beckham and Tiger Woods are more relevant than Shakesperare." Now that's a tough one. Unfortunately, they were out-classed by a Shakespeare-quoting team from Korea, but they handled it graciously. The kids have gotten to know each other over the week, so they were genuinely congratulatory to the winners.
The final debate–Korea vs. the Netherlands
Friday was the final debate, where two teams debated before an audience of hundreds. Their topic was "This house would tear down walls." A vague topic, artfully won by the Korean team on a split decision (4-3) over the Netherlands.
World class debating.
After an eventful week in Stuttgart, four of our team members qualified for the Turkish National Team and will compete in the World Debate Championships in Qatar this February. (No hard feelings…Mehmet didn't try out.)
These kids are World Class!