When I first came to Turkey, I was alerted to the possible dangers for a Western woman traveling to Eastern Turkey. Well, last weekend was my third foray into the East, and I've never felt more like a celebrity in my life.
Friends Stella Risi (South African), Lorna Richardson (English) and I (American) took advantage of our three-day weekend to visit the famed Mount Nemrut—the one with huge carved heads sitting atop its peak.
Me, Lorna, and Stella in Malatya (though how woud you know?)
We arrived mid-day on Friday and checked into our Malatya hotel, a VERY weak 4-stars. Like two. Oh, well. We dropped our gear and headed off to find lunch, which was thankfully a mere block from the hotel. We had Mercimek çorba (lentil soup), çoban salata (chopped tomatoes, cucumbers, and onions), bread, and an entrée (I had köfte, grilled spiced meatballs) for about $5 each. Go figure. Food is MUCH cheaper outside Istanbul, and delicious to boot.
A favorite lunch–mercimek çorba (lentil soup), çoban salata, pide (flat bread)
Next we headed off to explore Malatya, our intent to visit the street bazaar. Within minutes we were adopted by a group of three young men eager to guide us. It took us two kilometers and a few cups of coffee to shake them off, friendly though they were. That was just the beginning. Everywhere we turned, people were chirping, "Hello!", "Hi!", and if more fluent, "What is your name?" or "Where are you from?" It was fun, actually. I'd say we chatted with at least six groups of people of all ages, both male and female. Tourists are rare in Malatya, especially in early May. (Stella said it was Lorna's and my blonde hair—bless her heart. We're both pretty white-topped, if you ask me.)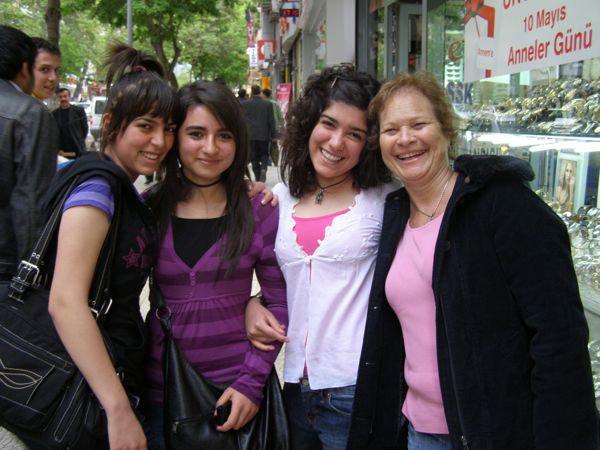 Friendly girls welcome us to their town with their limited English (…and Stella)
The highlight of our explorations was the market, where we found scrumptious dried kayısı (apricots—the area's specialty) and a few blocks where metal workers toiled right in the street. Welders with no eye protection, copper workers pounding on pots almost bigger than themselves, and knife crafters plying their trade. Pounding and banging, drilling and sawing sounds filled the air as we walked the streets, mesmerized with the scene.
Metal workers labor on the streets of Malatya
A copper worker pounds the bottom of a copper pot
Later we discovered a vegetable market, another place filled with a cacophony of sound, and everywhere there were kayısıcı, apricot vendors with every type of apricot you could imagine, including the pits, which are much like small almonds, and nearly as good.
A peek inside the Kayisici apricot seller's shop. ALL apricots!
Then more tea, more wandering, more chatting, and finally dinner at the Kent Lokantasi (Restaurant), where we'd been treated to tea earlier that afternoon. Delicious, cheap, and FAR too much food. Sigh…
Saturday Lorna slept in while Stella and I headed off to explore near the hotel. We discovered a railway station where learned that the train from Istanbul costs a tenth of what we'd paid for airline tickets—but it takes ten times longer (30 hours). No way!
As we wended our way back through a small residential area near the station, we encountered a woman scrubbing her carpet in the street. I snapped her photo, asking for advice on rug-cleaning. She hoses down the rug, sprinkles laundry detergent on it, and scrubs it with a long-handled brush. Then she rinses it off and hangs it out to dry overnight. Easy, she said. Right. I can just see myself scrubbing my rugs on the Devil Track Road!
THIS is how you clean a Turkish carpet.
She invited us for coffee (I expected Nescafe), produced small stools from her house, and treated us to the most delicious Turkish coffee I've ever tasted. As we sat, more and more neighbors joined us, all tickled to chat with the yabanci (foreign) women. Sheer delight. One of the ladies beckoned us over to a shed across the street to show us a litter of newborn kittens.
Stella and I posed with the first neighbors who joined us. The boys spoke a little English.
At noon we departed for our 22-hour tour of Nemrut. Our $60 fee included mini-bus transport (with 5 other delightful tourists, a Turkish family and two young women from Malaysia), a lunch stop, a sunset visit to the top of the mountain, lodging at the Güneş (sunshine) Hotel on the mountain, a second visit to the summit (sunrise this time), and breakfast.
The very basic but charming Güneş Otel. Romantic? Umm…

The concrete "mock rock" decor of the hotel stairway.
We had great fun getting to know each other and sharing the adventure of a frigid hotel experience (no heat), the fascination of the mountain ruins, and the camaraderie of shared wine (brought it up there), soup and bread, chicken shish, and evening games (poker and checkers).
But the amazing thing, of course, was Mount Nemrut. At the top of this 2100-meter mountain sits a collection of statues and fragments dating back to the Kommagene dynasty of 80 B.C. to 72 A.D. Overlooking the Euphrates River (Turkish name: Firat), the ruins on the mountaintop were never a community, but a shrine to the gods and to the ancestors of the dynasty.
Zeus watches over the mountains from the Western Terrace of Mount Nemrut
According to a website about Mount Nemrut, "The well-preserved colossal statues overlooking the court on the east are made of blocks of limestone and measure eight to ten meters in height. The figures are shown in a sitting position. Inscriptions identify the statues on the eastern terrace from left to right in the following order: Antiochos, the goddess Kommagene, Zeus-Oromasdes (the Graeco-Persian sky-god and supreme deity, and also the largest-sized statue), Apollo-Mithras, and Herakles-Artagnes. On either side of the divinities stood a guardian eagle and lion.
A lion guards a platform on the East Terrace
The heads of all the deities have toppled over onto ground in the intervening centuries. Their finely worked facial features are striking examples of the idealized late Hellenistic style. The gods wear Persian headgear." (Ozduzen, Nezihi. "Mt. Nemrut National Park." All About Turkey. 6 May 2009 <http://www.adiyamanli.org/mt_nemrut.htm>.)
The headless, seated bodies of Nemrut's  collosal statues
Unfortunately, the heads have fallen from their seated bodies, but they've been set up so that they can be admired. Perhaps these multi-ton heads will once again sit atop their bodies. It was all truly amazing, particularly as we viewed the statues in the slanting rays of the late-day sun.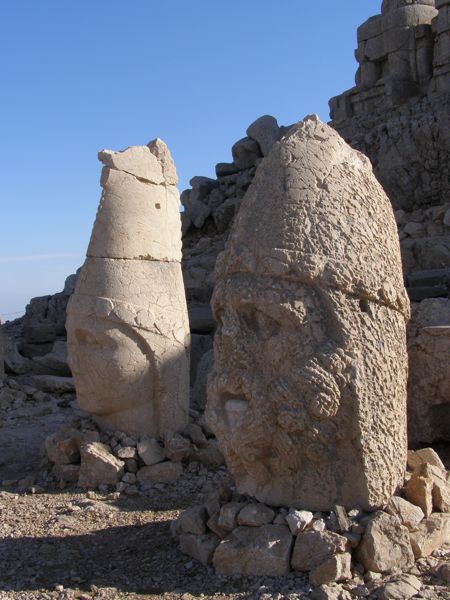 Heads on the East face of the mountain—Antiocyus Theos and Zeus

Our bonus, too, was a traditional dance performance by a group of children from a nearby village, probably in honor of the May 1st holiday. Lucky us, huh? Of course, I haven't mentioned that it was incredibly cold up there, well below zero, especially the next morning before the sun came up .WINDY!!!!
Young dancers on the terrace as the lion stands guard
They danced over a half hour in the bitter cold
They were tickled to pose with a yabanci (foreigner).
Although we didn't get to see it, Mount Nemrut is the site of history's first known astrological symbol, part of a lion statue which is presently being renovated (in a locked building).
Sunset over Nemrut
After breakfast we returned to Malatya and spent the afternoon exploring Eski Malatya (ancient Malatya) a small city about 11 kilometers away. There we explored the renovation of an old caravansaray and the newly-renovated Ulu Cami (mosque). Both lovely.
The newly-renoated interior of the Ulu Camii, in Eski (Old) Malatya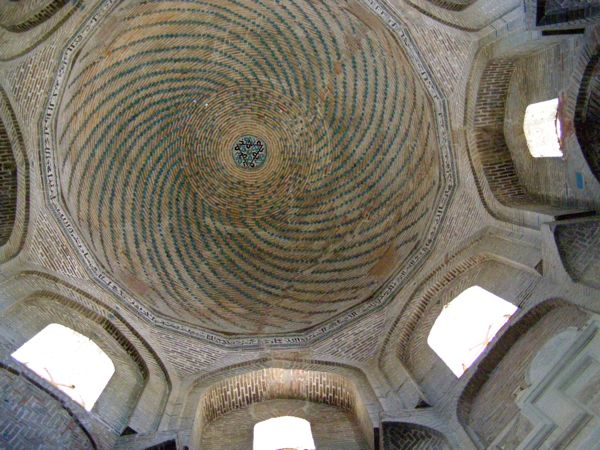 Peering up into the dome of the mosque
Detail of ceramic decorations in the mosque–tiles nearly 800 years old
Before we knew it, we were thronged by a herd of little boys eager to show us their village. They helped us find a restaurant, then waited outside, watching us eat our lunch of mercimek soup and coban salata—always our favorite lunch.
Rather than fend them off all afternoon, we caught a bus back to Malatya, where we meandered lazily back to our hotel, soaking in the sights and the sunshine, sampling coffee, tea, and sweets along the way.
Each time you eat a dried apricot, it probably comes from Turkey—from the area around Mount Nemrut. Imagine!