Changes. Yes, many changes. A new president, for one. (We DID it!!!!) This new year has brought smaller changes, too. I've grown a titch bulkier and developed a few more wrinkles (I'm nearly 60, you know). I also acquired a new car, which compelled me to pursue another stint of teaching overseas. Where? Well, where else? Back in Istanbul, of course.  I said goodbye to family and friends, skis and snowshoes, and…
Goodbye Libby, Erin, Matthew, and Mitzy!
Goodbye, snowshoes (and snow)!
I just arrived at the Koç School campus on Saturday—a drizzly, sopping afternoon. I was detained FAR too long at customs (an expired residence permit necessitated much discussion among the police and a hunt for the official stamp to CANCEL it). I was greatly relieved to find that my driver had waited the extra half hour for me. I dozed through most of the hour-long drive to campus, waking for a few moments just as we crossed the Bosphorus. It's always a joy to gaze up and down that incredible waterway and marvel at the the Rumile Castle just beneath the bridge. Ah, Istanbul!
After settling into my lojman, a cozy little two- bedroom just like I had before, the sun peeked out. Hooray! I tried to shake myself awake with a walk around campus (about 3K). Things are pretty green here, with iris shoots pushing up and rosebushes leafing out. Everything looked pretty much the same as before, except for a recent addition to the high school. As I continued around toward the elementary, though, I wondered about the huge wooden structure looming ahead. My goodness—A HORSE! I kid you not. There's a monstrous Trojan horse planted on the elementary playground overlooking the tennis courts. It has a wooden mane and tail, and its body is a vast room with barred windows (apparently to prevent accidental falls), easily large enough to hide a hundred soldiers.
The HORSE by moonlight
I assume you realize that Troy is located in Turkey, southwest of Istanbul where the Aegean Sea meets the Dardanelles Strait. I haven't been there yet, but it's on my list. Previously thought to be a mythical city, Troy first appeared in Homer's Iliad and Odyssey (these works date somewhere between 600 and 900 B.C.). You know, Helen of Troy and Odysseus and all that? Well, the actual remains of 4,000-year-old Troy were discovered in the 19th century, and many of its treasures now reside in Russia and Germany. Yes, my friends, Troy is right here in Turkey. AND—on the Koç campus.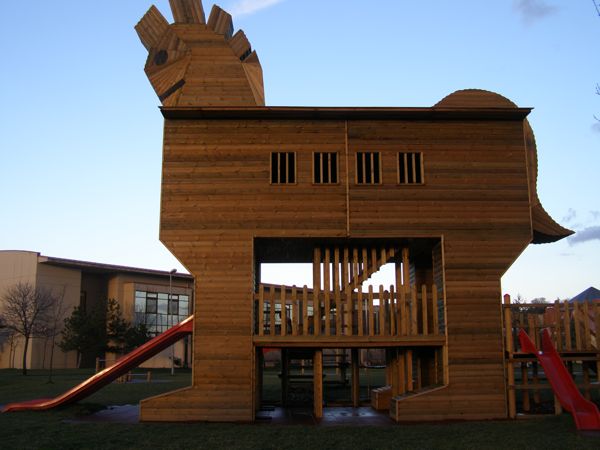 The HORSE by day
I'm not sure who masterminded this structure, but I understand it's been rather controversial. Can't imagine why! They had to install lights and a closed-circuit camera in the beast's belly to prevent untoward evening dalliances by students living on campus. Maybe teachers, too, huh? Who knows?
I can't help but chuckle as I think of the shenanigans that may have ensued before the camera was installed. Here in Turkey we tend to react to situations in a knee-jerk fashion, so I assume there was some impetus for the expense of a surveillance camera. Ah, Istanbul!
Big Brother is watching you—Troy or 1984?
There's one more notable change here at Koç. We have security systems for every lojman (apartment) with a blinking red light above the door. Apparently in spite of our much-appreciated 24/7 guards cruising campus, someone discovered a prowler in their house one night. We've been warned to keep all our doors locked, there are new motion sensors on the chain-link fence that surrounds the campus, and every lojman has an alarm system, complete with a blinking red light over the front door.
Our added security…
I haven't done too much walking yet, as it's been raining most of the week. My friend Ileyn joked that she expects to see pairs of animals queuing up on a nearby hillside. Did you know, by the way, that Turkey is also where Noah supposedly built the ark? Mount Ararat is in Eastern Turkey, and I hear that's the place. Check your National Geographic archives. I just hope this rain doesn't continue another 35 days and 35 nights. I mean, enough is enough!
I've noticed a few other changes here, too, thanks to our new high school director, Koray Özsaraç. He's improved the climate of the school: the kids are in uniform, the teachers seem happier, and the halls are quieter. He's also put an end to students butting in the lunch lines (though I'm still waiting for the day that teachers get to step ahead of the kids).
Well, it's good to be back with people I know and love. My classes are rolling along, and I look forward to my first trip into the city this weekend. Ah, Istanbul!