In early April my friend Marnie told me to set aside May 27th for a big event at the Koç School. When I realized it was a Tuesday I was disappointed. The trip from my home on the European side of Istanbul to hers on the easternmost Asian side is long; though only 20 miles, it's about 3 hours on public transport— a daunting trip for a school night. I changed my attitude, though, when she said it was a live music event. THAT would be worth the trek!
I caught a school service bus to the Asian side of the Bosphorus (only 45 minutes), then hopped on the train to Pendik (another 45, including the wait). I walked four blocks up to the bus "station," where I was the first to board the next blue mini-bus. Another 20 minute wait, and I was on the 40-minute ride to the Koç School. It had taken me 2 ½ hours from Robert College to the Koç School, record time for afternoon rush hour. Lucky me!
As I checked in at the gate, familiar smiles greeted me, eager for news of my life since Koç. In my limited Turkish I managed a short account before starting the trek across campus to the Paulus' house.
The guards' warm welcome brightened my walk along the familiar sidewalks and lawns—nostalgia hit as I cut through the student commons, a huge glass pyramid that joins the major wings of the high school. On my way through, I noticed a poster for Brooks Williams, the headliner for the school's upcoming talent show. Hmmm…
Marnie and Tony welcomed me with warm hugs and introduced me to their friend Brooks Williams. In the flesh. He's actually just a regular guy, though I was soon to learn an incredibly talented one. Brooks was the featured event for the evening of backyard music. The Pauluses have known him for years, and he interrupted a musical tour of England to buzz down and join them in Istanbul for a week. An accomplished acoustic guitarist and folk singer, his music is reminiscent of Leo Kotke or John Fahey—my favorites—and he's that good, too. (Check him out at http://www.myspace.com/redguitarbluemusic .)

The Koç School's two Davids enjoy Brooks' folk strumming.
I basked in the warmth of good friends at Koç—about 20 or 30 teachers, staff, administrators, and their lovely children. We were wined and dined with an impressive spread of fabulous mezes (Turkish hors d'oeuvres), then congregated outdoors for music. Ahhhh…Music!
The perfect way for folks to enjoy guitar…
Brooks awed us with both voice and guitar for nearly an hour as the sun sank over the hills of Istanbul, then two local musicians, Tolga and Erdem, took center stage with Turkish folk music. They demonstrated some fascinating percussive techniques, which were great fun. Then, of course, the three guitarists joined together for a jam session, a delightful finale to the evening—which ended far too soon for my tastes.
Tolga and Erdam "strut their stuff".
The next night brought more live music, this time on my side of the Bosphorus for dinner and jazz. I arrived at Eminönü about an hour early (you never know how long a trip will take with Istanbul traffic), so I headed for the Rustem Paşa Mosque (a favorite spot) to relax in the breezy shade of its second-story courtyard. Lo and behold, who should walk in but Tony, Marnie, Brooks, and Mesure (a Turkish friend from Koç), also early arrivals to the city. Speaks to the charm of the Rustem Paşa, doesn't it?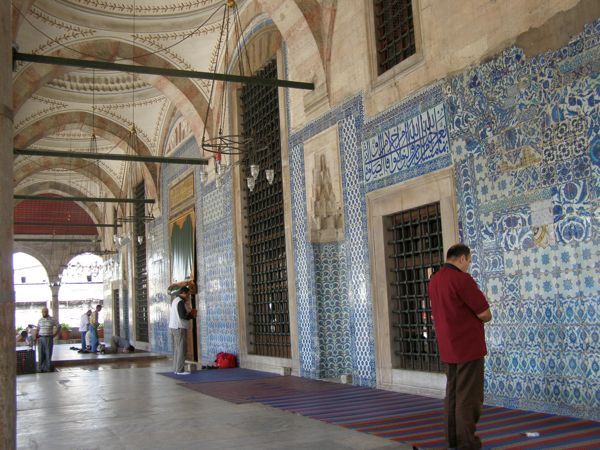 The outdoor prayer terrace at Rustem Paşa Mosque
Rustem Paşa interior: a man at prayer
After enjoying the mosque, Mesure treated us to a delicious array of culinary delights at the Hamdi Restaurant (a traditional favorite), then after dinner Brooks and I worked off a bit of our dinner with a trek across the Golden Horn and up the cobbled lanes to Nardis, a night club just below the Galata Tower, where we met others for an evening of jazz (and, of course, rakı—a traditional Turkish drink).
The Nardis was great, but how can you beat the intimacy of good friends at a backyard concert? It just can't be done, not even in Istanbul.
Yup! Great tunes!
And—tonight I'm going to a Jethro Tull concert. Imagine that!