Well, we're back in Istanbul! Though I was a nervous wreck about sentencing Libby to 16 hours in cargo (KLM said she was too big for the cabin—what????), we both managed, arriving mid-day Thursday after a 24-hour trek from Grand Marais. We're settled into our little apartment-with-a-view at Robert College, a highly prestigious and incredibly picturesqe preparatory high school located high above the Bosphorus.
I was warmly greeted by Maria Orhon, Robert College English teacher and Academic Director. Imagine my dismay when I realized that she had a small Toyota (with a driver) to transport the two of us (three with the driver), Libby and her kennel, and five suitcases and crates. Oops! We had to hire a taxi to get everything to the school, though Maria was more than gracious about it. After giving me some time to squeeze everything into my apartment, she chauffered me to a nearby Migros grocery store, then later treated me to a meal of mouth-watering fish cakes and grilled turbot steaks. YUM! And— Eftalia, the lovely Bosphorus fish restaurant, is within walking distance of school! Since I hadn't had any exercise for two days, I bid Maria farewell at the school gate and hiked back up the hill to my lojman (apartment). I slept like a log, 11 hours straight.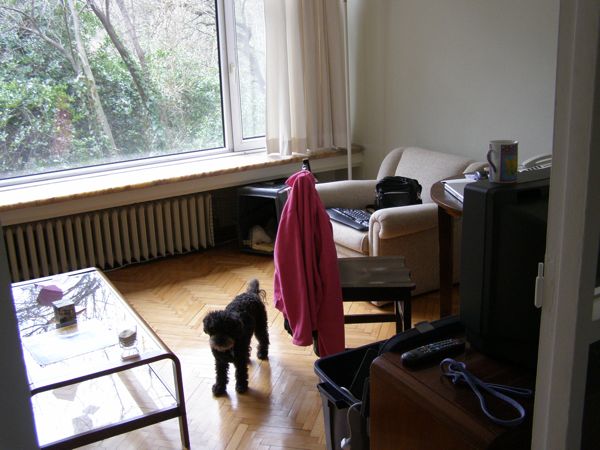 Libby checking out our new digs
–
The word for the day at Robert College is STEPS! Yesterday I walked back down to the Bosphorus, which is 10 minutes (and 167 steps) down the hill. The walk is lovely, with winding sidewalks and stairways lined in lush greenery: lawns, trees, and shrubs, punctuated by the occasional spray of spring blossoms. (Yes, it's nearly spring here.)
A bit of the 167-step trek up the hill to Robert College
–
The Bosphorus is amazing, too. The waterway that divides Europe from Asia (I'm on the European side), it has been the source of many a war because it connects the Agean Sea (to the west of Turkey) and the Mediterranean (South) to the Black Sea, providing access to Georgia, Russia, and many of the Baltic states. It's also beautiful.
A view of Asia across the Bosphorus from our European campus

–
Libby and I strolled the waterfront for an hour, watching fishermen catch hamsi (anchovies), meeting stray dogs (all friendly), and just generally scoping out the scene. Private boats of all shapes and sizes line the quay, and I noticed that many are floating restaurants. Have to check those out later.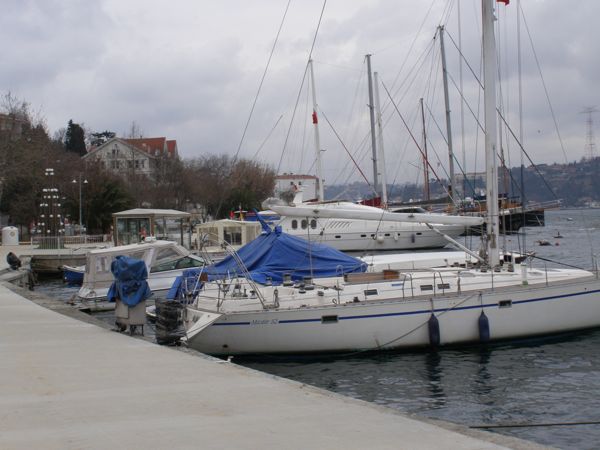 Boats lining the Bosphorus quay
–
I spent the afternoon working in the English office, preparing for my first week: poetry for the non-fiction classes and Bless Me, Ultima for the fiction class. I'm eager to get back into the classroom, and this new semester offers a new beginning to all of us. I'm replacing a teacher who left (reluctantly) because Turkish law forces teachers to retire when they turn 65. She left things totally organized for me, with little notes everywhere. What a welcome! I feel truly embraced by the people here already. Of course, this is Turkey. They're like that here.
My five-month office corner
–
After a dicey sleep the second night, I putzed around my apartment, filling the walls with calendar photos (thanks to Aly) and reorganizing the furniture. Then Libby and I trekked up to the upper campus entrance—another 322 steps. Oh, my goodness! I'm going to get my exercise here, believe me. I was of the mistaken impression that the college was perched on top of the hill above the Bosphorus, but I guess it's less than halfway up. A few very cranky dogs met us just outside the upper gate, but I picked Libby up and we ignored their snarls—well, sort of.
We explored the streets above the school, and I found another little grocery store. I picked up garlic, crackers, and pepper, carrying Libby through the store. I'm hesitant to tie her outside, as one nasty dog could do her in. I don't think I'll take her beyond the upper gates anymore. Not a great place for a little dog. (Though apparently it's still a good place for horses!)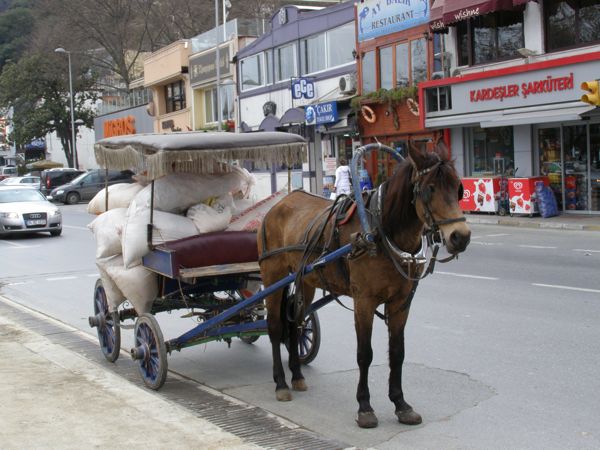 A rare, yet intriguing sight in Istanbul—Speedy Delivery?

–
So here I am, champing at the bit to teach my four sections of 9th graders at Robert College. It feels good to be back in Istanbul, though issues abound here. (The latest is the parliament's decision to allow women to wear scarves in the universities, which is upsetting to secularists, who see it as a step toward an Islamic state. More about that later.)
The call to prayer warms my heart, and Libby is now sitting at the window watching for Campus Cats, of which there are many. Each new citing intoxicates her; she'll be happy here. Not many cats around the woods in Grand Marais. Just boring old deer.
—
Boreal Access Web Mailer