In a few days Turkey will celebrate Kurban Bayramı—a holiday I'd always found horrifying—riddled with roadside animal carcasses. I really didn't get it. İrem Eren, my office mate, opened my eyes to the generous traditions of this holiday, and later I discussed  it with senior Özdemir Vayisoğlu, our Bosphorus Chronicle Editor. I think I'm starting to get it. It's all about sacrifice and generosity.
My lovely colleague, İrem
İrem and Özdemir come from smaller cities and fascinated me with tales of what their families do. When I talked with my other students I learned that about a third of their families follow the traditions of bayram. İrem generously invited me to spend Kurban Bayramı with her family, which I would have loved if I hadn't already made plans to travel to Cappadocia with my friends from the States.
.
A little research revealed that Kurban Bayramı is the most important Islamic religious festival of the year. Celebrating Abraham's near-sacrifice of his son, the head of each Turkish household sacrifices a sheep on the morning of the first day of the holiday. Though common all over Turkey, it's less typical in the cities than in rural areas.
Migros, a Turkish grocery chain, offers a 100 lira discount on livestock shipments for bayram.
Özdemir explained that early on the first morning of the four-day bayram everyone goes to the mosque for a short prayer called bayramnamazı. After the prayer they gather to chat in the courtyard before heading home to prepare for the kurban—the sacrifice of an animal.
.
Wealthier families hire someone to do the kurban. He recites something from the Koran, then (a-hem) slits the sheep's throat. I noticed that neither Özdemir nor İrem chose to speak in those terms. They seemed sensitive about the slaughter, but it is what it is. İrem's family has a butcher perform the kurban, which might be done on a sheep, a goat, or a cow (which might be purchased together by a few families).
.
Özdemir explained that the hired man would cut up the meat into large pieces and and put into huge flat trays, which men carried into the house. There the women would divide the meat into smaller pieces and package it. In İrem's family, her job is to make the labels for each package based on a long list they have compiled of people who they want to help.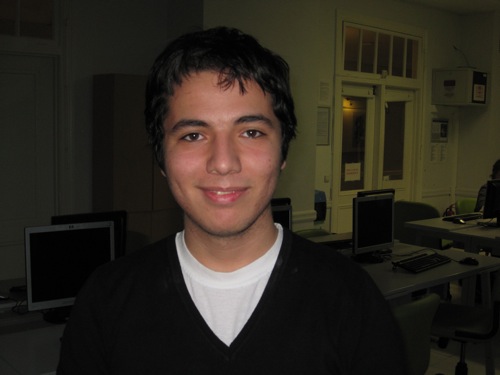 Özdemir , Chief Editor of our school newspaper
Each sheep is divided into fifteen to twenty packets, a good deal of meat. Once the meat is packaged, it is immediately piled into the trunk of a car and delivered to the homes of the needy. Of course, some meat is kept behind for serving guests.
.
Guests and visits. The rest of the holiday is spent visiting family, friends, and business associates. The women of the household have been baking and cooking for weeks to prepare for all the visitors. "We make a list of everyone we want to visit," İrem explained. "It includes all the relatives and also friends and business associates. We usually have a list of about 100 people to visit in the three or four days of Kurban Bayramı. You just have about fifteen minutes to eat a little and have some tea. We usually have sweets at people's houses, and you get so SICK of eating all the sweets. But you know Turkish hospitality. There's no way you can say no, so you just eat some more," Irem said with a smile.
.
She went on to explain that when the people they are visiting aren't home,  they leave a note to let them know you stopped by. She said her father cleverly hurries to the home of anyone he sees out visiting because then he can get by with just leaving  a note. With 100 people to visit, I can certainly understand.
Özdemir's grandfather was a community and political leader, so his family often slaughtered two or three sheep. Until his grandfather died at 101, they stayed at home and let other people visit them. "I'm not exaggerating when I tell you 100 people visited my grandfather every day. We had to have a lot of food ready for everyone. I sometimes went out to visit my relatives, but there was always someone home with my grandparents."
.
I had to chuckle when my friend sent me a flyer from Migros, a Turkish grocery chain, advertising prices for sheep and cows, which varied according to the amount of meat and whether it was delivered or picked up at a store. The sheep looked so sweet that I couldn't help but name them. "You can choose Irma or Edna or Eunice, or perhaps you'd prefer Bossy the cow."

Yes, it's a different world than most of us live in, but how often are we westerners so generous to strangers? Food for thought—pardon the pun.