Let's see…this is my fifth year in Istanbul, and at least my tenth trip to Termal. I wonder how many times I've written about it. The joy of being over 50 is that every experience seems new.
Actually, I wanted my friend Sally to experience Termal, one of my favorite spots in Turkey. It's only a few hours away, and with a few days off school, I decided to go for it. Sally and I hopped the Fast Ferry on Wednesday morning for the hour-and-a-half luxury trip over the water. We found the nicest seats on the boat, ordered Turkish coffee, and were basking in the joy of our adventure when a young couple interrupted us. Apparently it wasn't open seating, and we were in their carefully-selected spots. Oops. Blush. Affidersiniz (Excuse us.)
We were met at the pier by the lovely Gizem, a young Turkish woman who had worked in Grand Marais all summer.
Gizem, our lovely guide
She led us along the beach to a celebration of Republic Day at the Ataturk statue, where I snapped a few photos. It never ceases to amaze me how very much the Turkish people value their independence. We Americans tend to take it for granted.
A military celebration of Turkey's Republic Day
Then Gizem treated us to soup in a lovely restaurant, then brought us to the street bazaar. After reveling in the colors and sounds and general hubbub of the bazaar, we grabbed some roasted chestnuts and hopped on a mini-bus to Termal, which is located in the mountains above Yalova.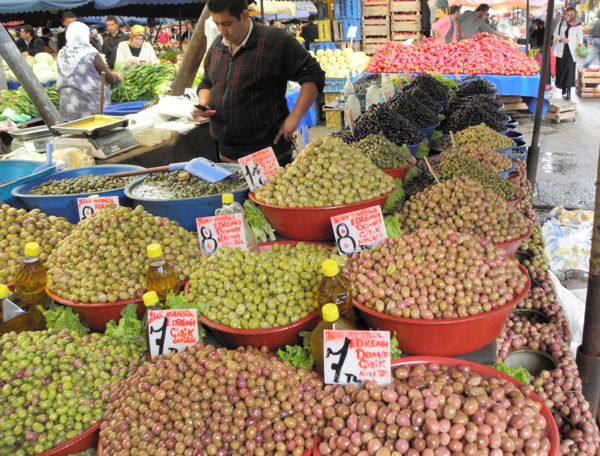 Ah, OLIVES!!!
…and pumpkins, also doubling as winter squash in my recipes.
We checked into the Çamlık Hotel, pleased to see that we had a spacious balcony overlooking the river. Gizem headed home to help her mother with dinner (we, of course, were invited), and Sally and I packed up bathing supplies to visit the hamam (Turkish bath). After changing into bathing suits (which we really didn't need), we clomped (in our plastic scuff slippers) down the marble stairs to the showers. We had a bit of trouble managing the temperature, so we started our experience fully chilled. We walked down a white and gray marble hallway to the spring-fed pool, which was a little murky from the recent rain, as it's fed directly from a hot spring. It was warm, though, and lovely, much like a huge marble hot tub.
Sally and me in front of the Valide Sultan Hamam
Next was the sauna, heated also by water from hot springs. One nice thing about the Termal hot springs is that they don't stink. Relief. The floor of the sauna is slatted marble with hot water bubbling beneath it and steam rising into the room. As hot as it was, we were surprised that the wooden seats were sit-able. We were the only ones in there. Apparently saunas aren't popular with Turkish women, and we were the only yabanci (foreigners) in the whole hamam. We probably looked dopey with our suits on, as the other women were dressed only in panties. Oh, well. It's not like we were trying to blend in or anything.
After the sauna we went to the banyo, where marble benches and large, round marble sinks surround the room. We scrubbed ourselves from top to bottom, dipping a bowl into the sink and sloshing it over ourselves. A gutter running around the perimeter of the room brings all the excess water to who-knows-where. A huge round marble slab fills the center of the room, much like a low tabletop, about 15 feet in diameter. This, too, is heated, and you lie on it, feeling like a big slab of pie dough. It's hot, but we coped.
Last, but CERTAINLY not least, we headed for the massage room. We each had an phenomenal massage by Fatma, the strongest woman on the planet (or at least in Turkey). Oh, my—it hurt so GOOD!!! Instead of massage oil, hamams use soap, which slithers across your skin in a deliciously sensuous slide to oblivion. That was the best 20 lira ($12.50) I've spent in years! Fatma finished by pouring buckets of hot water over us to wash away the soap. Oh, my goodness. How I wish I could bring her home with me, at least to Arnavutköy!
The historical Turkish hamam with David and Sally in the foreground.
Another sauna and one last scrub finished us, then we dragged our limp bodies back upstairs to dress before dinner at Gizem's house.
We caught a blue mini-bus back to the city, which was an adventure in itself. Our driver was young, accompanied by two of his cronies. They stopped to chat with friends who passed in the street, then stopped at a store to pick up cigarettes. It felt more like "criusin' with the dudes" than taking a public bus. Fun, though—or at least amusing.
Gizem and her brother Giray met us at the bus stop and guided us to their apartment just around the corner. We parked our shoes outside the door, and Gizem handed us each a pair of pointy, black velvet, boa-enhanced, heeled slippers to wear. "This is Turkish tradition," she said with a smile. "I'm not sure I can get into them," I said—and I was right. My foot hung three inches over the heels, so you can imagine how gracefully I teetered across the living room. I'm sure they had a good laugh over it after we left. Gizem's family welcomed us warmly, though, and they made us feel very much at home. Elif (her mother) had prepared a lovely dinner of lentil soup, salad, çig köfte, and güveç (a broiled individual casserole). The table was tastefully set with bread arranged around each plate. It was lovely, and each dish was scrumptious.
Elif serving up the best çorba (soup) in Yalova
Giray, Cemile, and Elif with me and Sally (photo by Gizem's father)
When we left, lo and behold, who was driving the mini-bus but our friendly dudes. They laughed a welcome, joking with us as before. Another cruise home.
The next morning my friend David arrived to share our day. We lingered over breakfast coffee, then enjoyed the sunny morning with a hike. We explored a new route up the hill across the river, finally emerging on a mountain-top meadow inhabited by a cow and her calf.
A young calf relaxed at the top of the mountain…at least until we arrived,
when he went to graze safely by his mother.
The view was spectacular and made up for the two tons of mud we'd hauled up on our shoes.
A view from the top
The mud built into huge clumps almost like snowshoes.
More hamam, more food (soup, pide, and ayran), more trekking, and a ferry ride home. Fortunately, the rain held off until we headed home. Oh, my!
After soup, we enjoyed cheese pide (like pizza) and veggies. Yum!