After a whirlwind tour of Turkey, I was able to sleep in on Thursday morning. My friend Jini and I bumped our heavy suitcases down the spiral staircase of Istanbul's sweet Kybele Otel, dragged them to the tram stop, and headed to the Eminönü pier to find the station for our one-hour ferry to the Princes Islands—Adalar. "Ada" is Turkish for island, and -lar is the plural form. (Just sayin'.)
My friends Mark and Jolee Zola generously offered their apartment to us for the week, and I'd texted their friend Hamit about our arrival. No response. My fingers were crossed that he'd be there to meet us, since I had only sketchy directions to the apartment—and no key.
We were met on the pier by a gray-haired man with a Cheshire grin. Hamit greeted us warmly and led us to his little red electric cart. There was room either for our luggage or for one of us—an easy decision. He piled our suitcases onto his back seat and drove slowly enough for us to follow him up the steep hill to the Zola apartment, which took our breath away (in more ways than one).
The hike was a steep one, and the place was bright, spacious, and filled with lovely Turkish carpets and pictures. Home for a week, with an airy terrace and garden to boot.
Burgazada is a sleepy little island of about two square miles with a population of about 1200, which swells to ten times that in the summer. The island is like the top of a mountain, covered with trees except for the north side, which faces the big city. It's odd to stand in silence among the trees and face a view of thousands of concrete buildings across the water (4 miles away).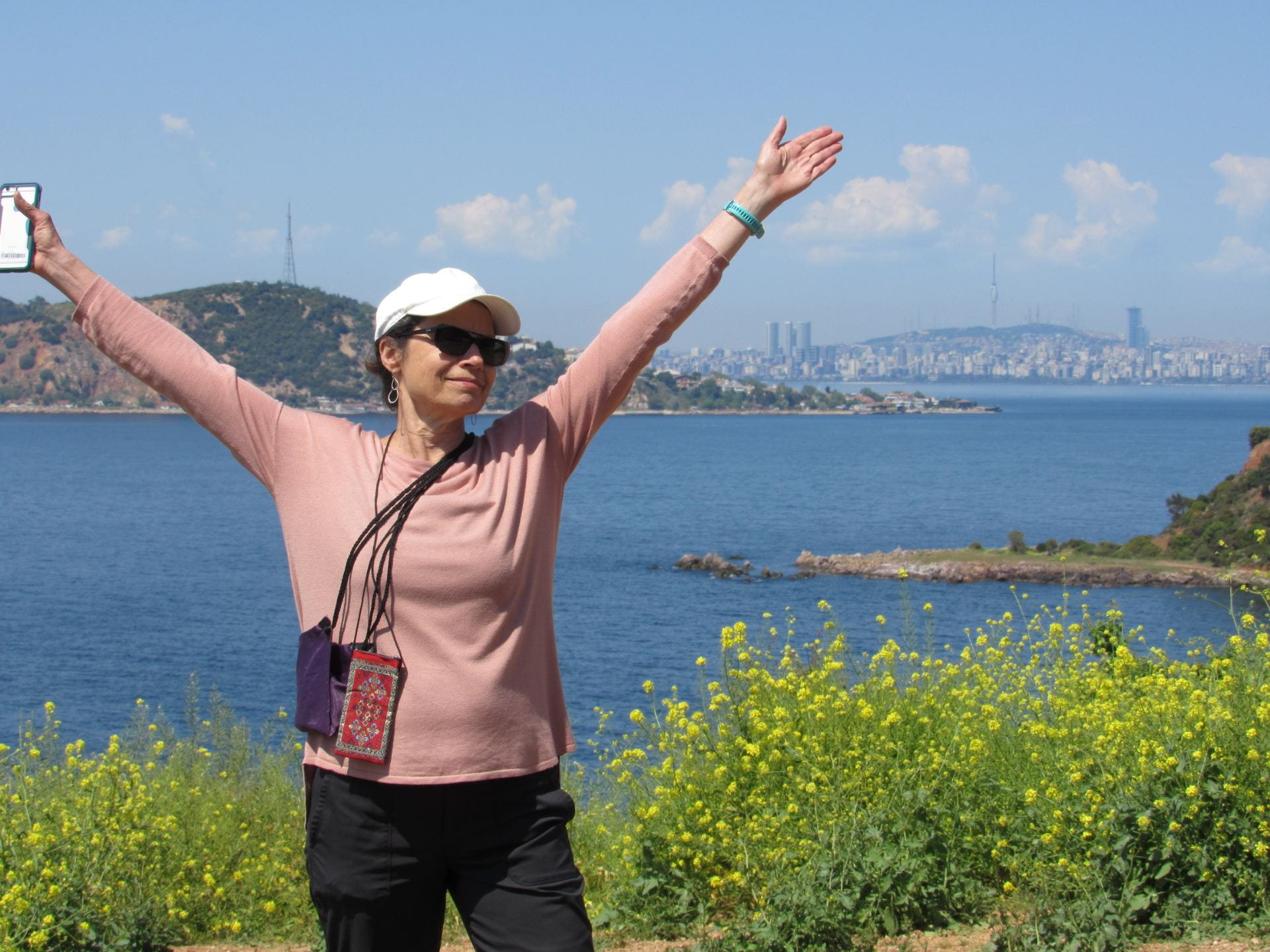 Burgazada features picturesque Ottoman houses interspersed with 2 to 5-story apartment buildings climbing the hill above the water.
There's also a Greek Orthodox Church at our end of the town and a mosque at the other end.
There are also cats, which are both fed and hated by the locals. Yesterday one scratched a hole in our terrace screen (the little bastard).
Could this have been the culprit?
No cars are allowed on the islands (except for fire trucks and government vehicles), but the horse carriages of yesteryear have been replaced by a bevy of small electric carts. Horses did all the hauling and transportation on the island the last time I was here (2013), but in past years concerned citizens have protested the misuse of horses, especially with the steep streets on the islands.
Apparently the life expectancy of an island horse is two years after being enlisted to pull a carriage, so the government ruled to end their use. A few horse carriages are still available for tourist use, especially on the weekends. There's a little "taxi stand" down by the dock; a short ride within the town is 30 lira (about $5), and a full tour of the island is 100 lira.
The downtown taxi stand on Burgazada on the weekend. During the week there are only a few carriages at the ready, but on the weekend there are plenty.
Long ago there were as many stray horses as cats on the island, but we've only spotted a few as we've wandered the island.
Friday morning we walked down to the weekly street market, where we made a killing on FABULOUS vegetables, fruits, and cheese—more than we've been able to consume, and for a mere $20. The ailing lira has been to our advantage, though it's devastated the Turks. When I lived here the lira was about the same as a Canadian dollar, ranging between 70¢ and 80¢. Now a lira is worth a whopping 16¢. Turkey is in a severe recession since the attempted coup in 2016, and the lack of tourists has made it all the worse.
We've hiked most of the island as well as Kınalıada, a smaller and sleepier island next door to this one. That, too, has a high peak in the middle, and we hiked over the top and around the side. Though it was only about a three-mile hike, it was grueling (and hot).
We'd brought a picnic lunch, and we stopped to buy some icy water after we reached the peak for the second time (on our way back). When we got back down to the city side, we pulled off our shoes to cool our throbbing feet in the sea, which felt like Lake Superior in the summer. Cold.
Jini dries her feet after their frigid plunge into the Marmara. Pebble beach, like Lake Superior.
Saturday night my friend Julide (Julie Day) came out to the island, suggesting we attend a spring festival on the next island of Heybiliada: the Hıdır Ellez. Jini was coming down with a cold, so Julide and I went alone to enjoy a beer and mezes followed by an evening of music, dancing, singing, and watching other celebrants jump over the bonfire. My goodness! Sadly, the last ferry left at 8:45, which made our night a short one.
I also took Jini to tour Robert College, which impressed her immensely. It's a stunning park-like campus, and I was tickled to chat with former teaching compatriots Cyrus, Jamison, Jake, Myra, and Alison. Cyrus showed us some major improvements to the campus, which was already gorgeous. When I mention to Turks that I taught at Robert College, eyebrows are raised.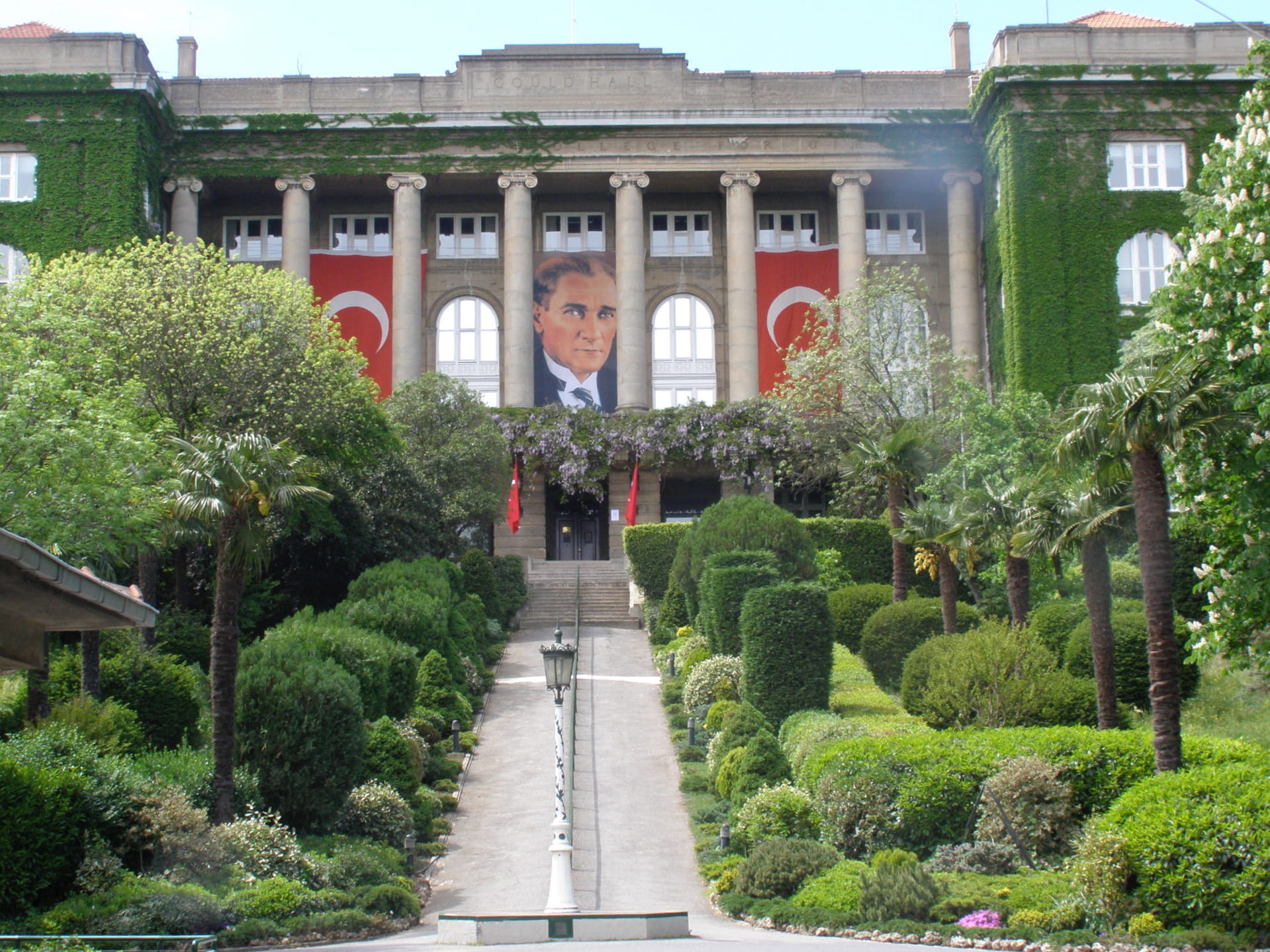 We finished our tour with a mile walk to Ortaköy, where we visited the newly-refurbished Ortaköy Mosque. Because it was the first day of Ramazan, we had to wait until the noon prayer was over then were allowed in. The main part of the mosque is alight from both windows and stunning chandeliers—only for the men. The women's room is dull and unexciting. What does that say?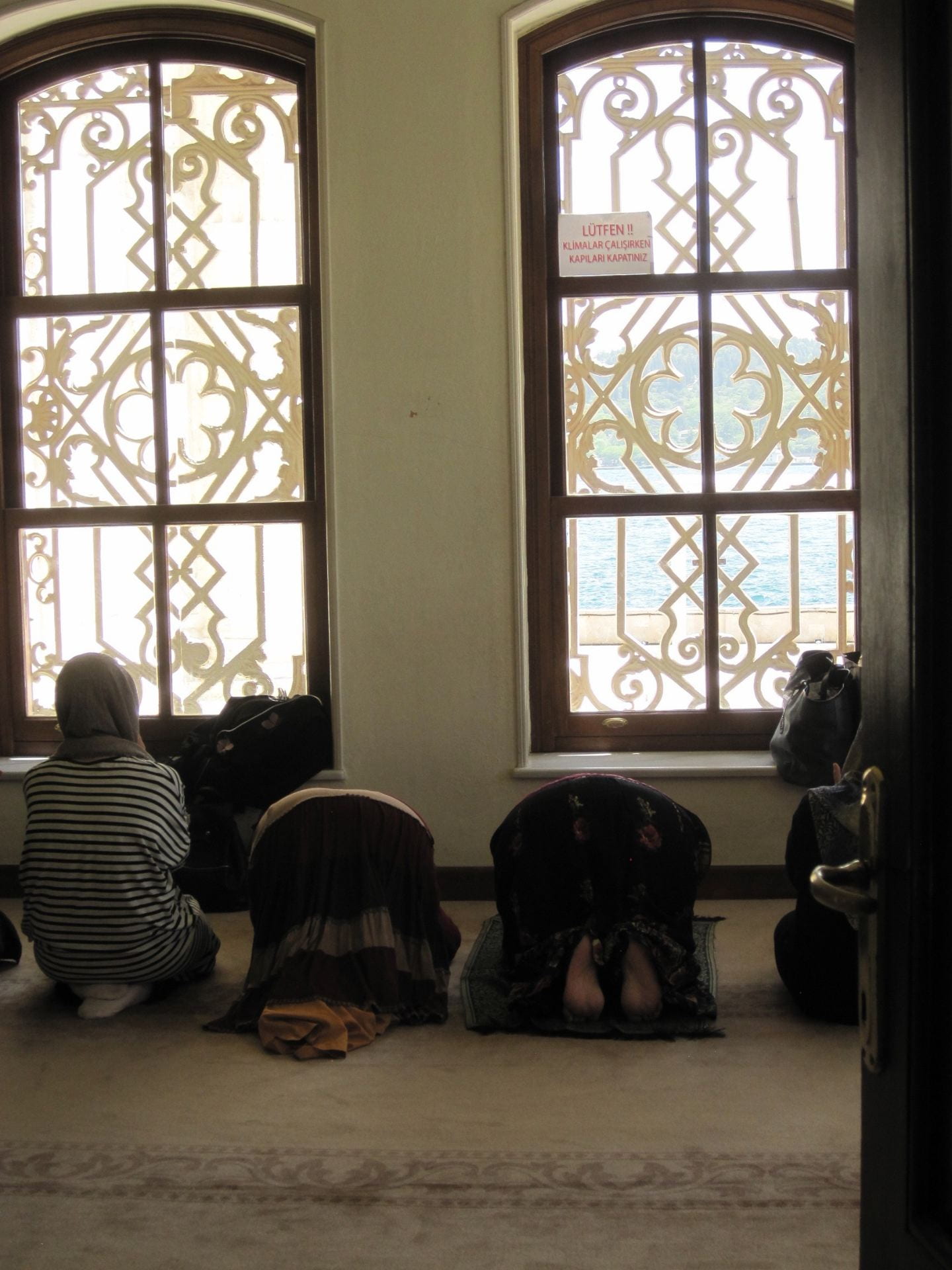 We also indulged in kumpir, the local baked potato mashed with butter and cheese, then topped with an array of items like corn, sausage, olives, pickles, mushrooms, tapenade, and other delicious items. I've never finished one before, but I cleaned that one right up. My belly felt like after a Thanksgiving dinner, but oh, well. It was delicious.
So ends this sojourn. I have a 4:15 AM flight, and I plan to catch the midnight bus from Sultanahmet to the New Istanbul Airport. Rumor has it that Erdoğan built this airport because he wants to abolish any references to Ataturk, his nemesis. The older (very adequate) airport is called Ataturk. That's a $12 billion expense to erase an old foe. Hmmm…
Supposedly this will be the largest airport in the world once it's finished. People are up in arms over the expense, especially after he spent over a billion dollars on his 1000+ room presidential palace. The heck with the unemployed.
Well, I still love this country. Farewell, Turkey…until next time.