As my friends back home struggled with yet another snowstorm, I sat in the Istanbul airport reminiscing about our last three (sunny) days in the city. Though I lived here for years and know the city well, each day brought new experiences, new history, new insights.
It was Ramadan, so a good percentage of the population fast from sunrise to sunset. We'd arranged to enjoy an iftar  (breaking of the fast) dinner on our first night, so we strolled down to the Matbah restaurant eager to see what lay ahead. Our table for six was set with mouth-watering mezes (appetizers), a traditional fruit juice, and water. We sat salivating over a feast of eggplant salad, humus, tapenade, pickled beets, vegetables, fresh, crusty bread, and other delicacies as we waited for the sunset call to prayer.
At the first strains from nearby minarets, we loaded our plates with mezes as waiters swept in with steaming bowls of soup. Food never tasted so good.
We visited the usual Istanbul sites—the Hippodrome (from Roman times), the Blue Mosque (closed for renovation), Topkapi Palace, and the Hagia Sophia, which has gone from a Christian Church (532-1453) to a mosque (1453-1931) to a museum (1931-2020) and now, sadly, back to a mosque.
We also had some surprises. As we strolled along the imposing Byzantine walls that encircle the old city, we encountered men gingerly toting boxes, bags, and cages. What? Our guide Elif explained that many Turkish men are passionate about pigeons, and the Sunday Pigeon Market was up the hill. Well, why not? She paid our admission (about 50¢) to a fenced-in market, a menagerie of pigeons and purchasers.
Though we were the only women among scores of men, they hardly noticed us as they inspected birds, prodding and turning them as they decided whether they were worth the price ($5 to $100). It was fascinating.
A soccer game was in progress between the pigeon market and the imposing city wall. Few paid attention, though. They were all about pigeons.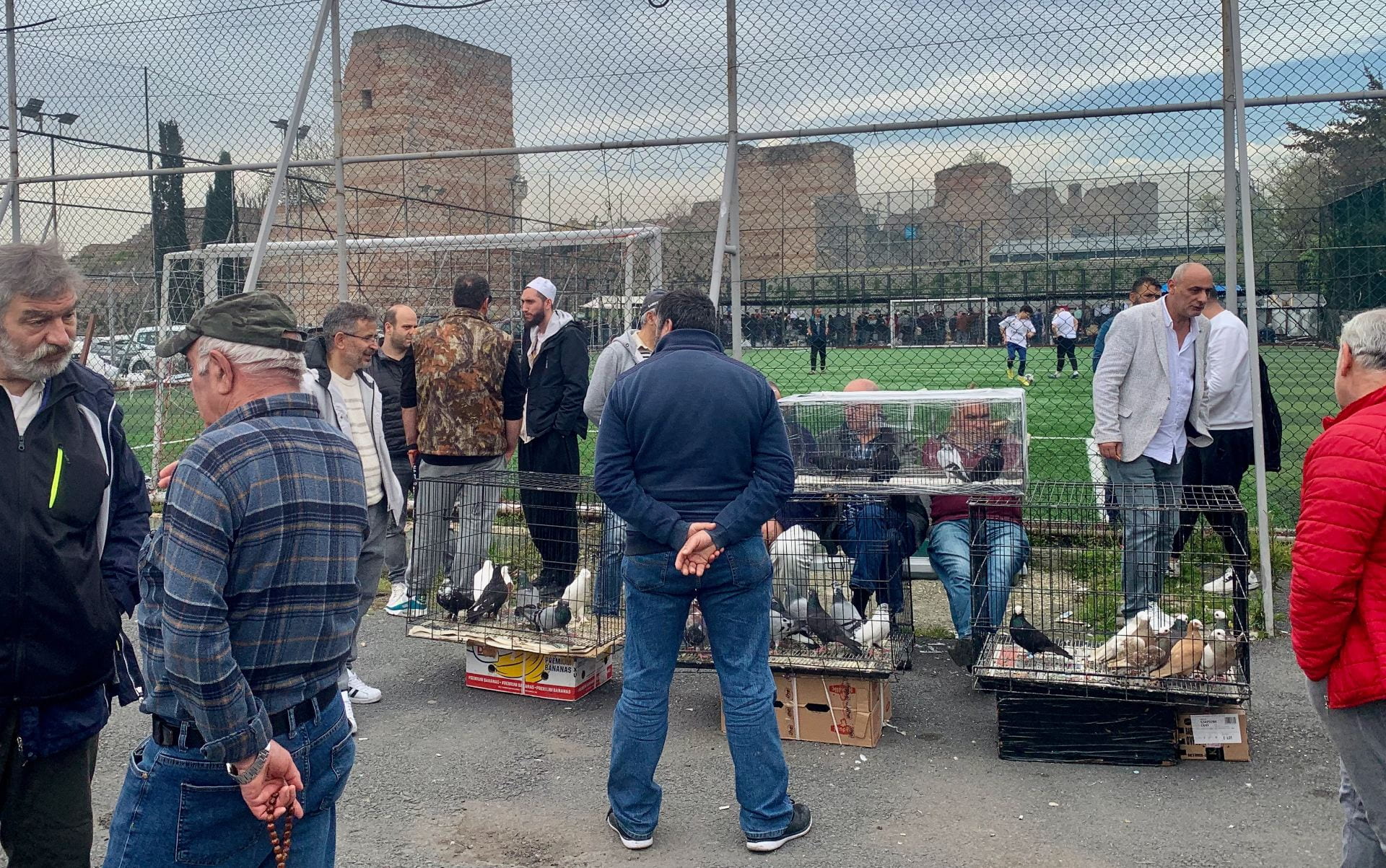 VIDEO: I caught a few minutes of exercise before we visited the Tekfur palace. Narration by our wonderful guide, Elif.
Our next stop was the newly-restored Tekfur Palace, a Byzantine palace where artists once created colorful ceramic tiles for the Ottomans through the Renaissance and beyond.
Who knew? I'd never even heard of it. From the ramparts we saw the city wall marching down to the Marmara Sea.
Our big treat on the third day was a cooking class at Cooking Alaturka. We were welcomed by a Sicilian chef, Roco, who offered us drinks and conversation before explaining our menu—five mezes (appetizers) and what they called the most lethal of Turkish desserts, künefe. I couldn't have been happier, as mezes are my favorite part of every Turkish meal.
Roco's assistant chef Nazlı handed out aprons and had us wash our hands before she led us through the intricacies of making sarma (grape leaves wrapped tightly around a mixture of rice, currants, and spices).
We also prepared grilled eggplant salad (my long-time favorite), spiced lentil "meatballs," Circassian chicken, and baked hummus. The künefe was a cheesy, creamy, buttery dessert that crunched with every bite. It's shredded pasta (a little like shredded wheat, only finer and white), a quarter pound of butter, a pound of sugar, a quarter pound of string cheese, lemon and water. Jerry said it was delicious. I had to pass on that because of a milk allergy. They baked stuffed figs for me, so I did get some dessert.
Let me tell you, my greatest challenge was wrapping softened grape leaves around a tiny dab of spiced rice.
The next worst was peeling hot eggplant straight off the grill. Wait—maybe it was peeling a big bowl of cooked chickpeas. Well, whatever was worst, it was well worth the effort. The payoff for all our work was a fabulous meal—with wine. YUM!!!