Oh, what to write about? It's winter, yet temps are in the 50's as sunshine glints off the Bosphorus. All is well in my little Istanbul world—and busy.
.
One night last week I heard the boza man calling out in the street again, "BO-ZA! BO-ZA! BO-ZA!" I grabbed my camera, a cup, and my coin purse (the three C's) and raced down to the street. He came over to pour me a cup from his shiny metal canister and agreed to have his photo taken. I should've asked him how much it would cost BEFORE he poured my cup, because when I asked him, he said, "On lira." (Ten lira, about $6).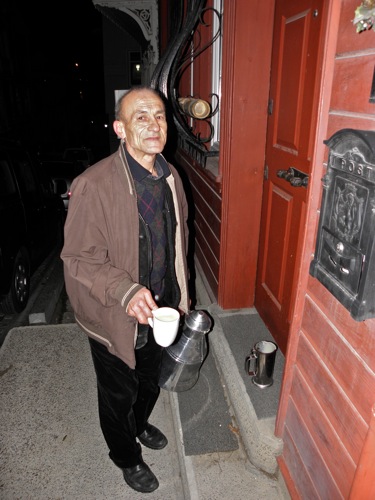 The Boza man outside my door
"Çok pahalı!" I exclaimed (too expensive!) as I forked over a ten. I knew better. Oh, well. The boza was delicious, and I figured I was paying him for climbing up my steep hill.
.
On Saturday I went into the city to pick up some gifts and towels. I'm a little short on towels for my soon-to-arrive guests, and anyway I wanted to buy a few havlu or peştemel, thin but absorbent cotton towels, a little like soft linen towels. I found a bamboo towel as well—softer than soft. I love it.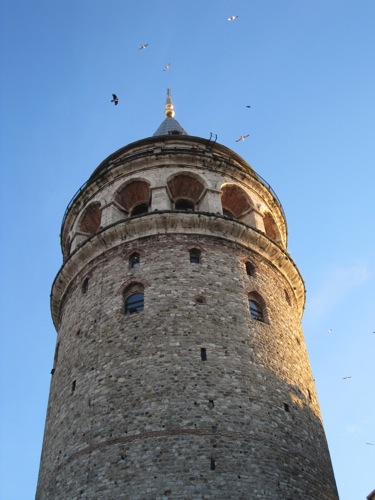 The Galata Tower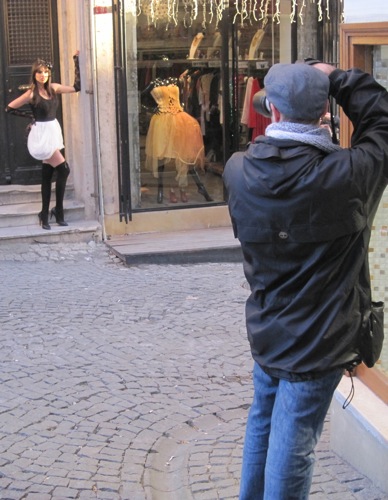 A fashion photographer and model near the tower
After shopping I found my way to Molly's Cafe, just around the corner from the famous Galata Tower. Some Robert College teachers were doing a poetry reading, and though we were a small crowd, we were enthusiastic. There were even a few students.
The RC gang wait for the first reader at Molly's Cafe
Michael sang his selections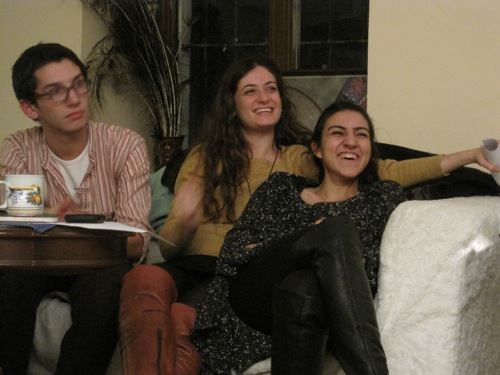 Yes, there was also good humor (that would be Jake)
Afterwards my friend Güler and I found a nearby restaurant to share a cozy dinner in the shadow of the tower. We'd hiked all the way down to the tram before I realized I'd left my purchases up in the restaurant. Sigh… How like me! My forgetfulness is getting to be seriously habitual. Back up to the Galata tower… Before heading back down I treated myself to a cup of salep.
.
The next morning I woke early to walk Libby and hike up to school for a trip to Dolmabahçe Palace with the residential students. Another teacher and I shivered with our 22 kids as we watched the changing of the guard, then snapped group photos by the famous Swan Fountain.
The changing of the guard at Dolmabahçe Palace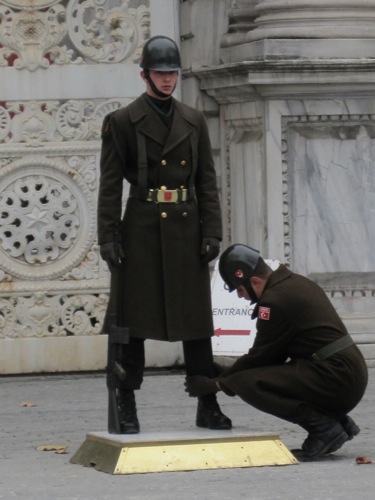 The grooming of the guard at Dolmabahçe Palace
22 RC Resident Students pose by the Swan Fountain
Then they proudly model their new palace footwear

Everyone got a charge out of the pink cellophane slippers we had to wear for our whirlwind (30-minute) tour of palace highlights (all in Turkish): the harem entrance, the bed where Mustafa Kemal Ataturk died (with a shiny new star and crescent satin bedspread), and the palace's stunning ceremonial hall. It had the biggest chandelier I've ever seen, reputedly the heaviest one in the world. I was hoping they'd light it for us, but no luck. I've been told that this palace, the sultan's effort to compete with Versailles, broke the bank for the Ottoman Empire. It's incredibly ornate, with the added bonus of a location on the Bosphorus.

Yup, I was there, too!
After the tour I walked up to Beşiktaş to meet a friend for lunch, then hurried home to make my Sunday Skype calls, correct papers, and make a double batch of peanut butter balls for a Christmas cookie exchange.
As I was working, my doorbell rang, and a man from downstairs delivered a warm casserole of asure (pronounced "assure-A"). It's a traditional Turkish gelatinous pudding chock full of raisins, hazelnuts, walnuts, dried fruits, and pomegranate seeds. Delicious. Apparently this is the season Turks make asure for their neighbors. Lucky me, huh? I'm saving some for my guests Jerry, Dan and Lynette, who arrive tomorrow. Can't wait.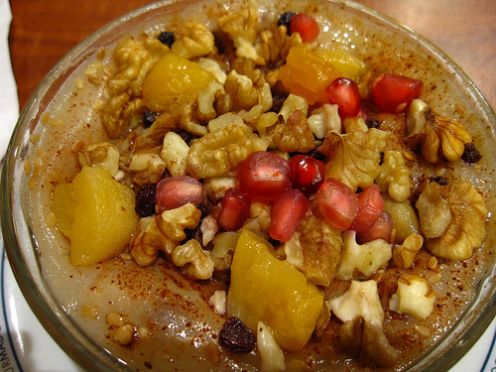 The delectable and famous Turkish asure. YUM!