No one told me that Slovenia was one of the most picturesque countries in Europe. I'd heard that Ljubljana was lovely, so I was quick to sign on to chaperone a debate trip there. Debate coach Janet Schaefer shared the supervision of six tenth-grade debaters (all girls).
Janet at the Ataturk Airport, with a UNICEF star–an Istanbul  fund-raiser
The debate was in Ljutomer (the 'j' is pronounced like a 'y'), a small city in the NE corner of this tiny country, about 200 kilometers from Ljubljana. In case you don't know, Slovenia is bordered by Italy on the west, Austria (and the Alps) on the north, Hungary on the northeast, and Croatia and the Adriatic Sea on the south. Views were stunning as we meandered through mountain villages, each with its Bavarian-looking onion-domed cathedral.
The Ljutomer Cathedral, both exterior and interior views:
We stayed on the Frank-Ozmek farm, where were welcomed by hosts Vili and his mother Vida, both charming.

The foggy Frank-Ozmec Farm (and horse)
One of their welcoming recycled wine barrels
The fabulous cook, Vida–unassuming and gracious:
Vida didn't speak English, but she made up for it by preparing sumptuous meals. We devoured homemade breads and soups (Oh, her savory potato mushroom soup!), salads gleaming with their own pressed pumpkin oil, homemade sauerkraut, stuffed pork loins, schnitzel, potatoes to die for—I could go on and on.
Typical Slovenian fare, photo from a roadside stop–lots of potatoes and meat
A little high on fat and sparse on vegetables, but what the heck. When in Rome… (and diet when you get home) We even tried duck eggs, and there was a generous supply of homemade wines—though not for the girls. Vida said they'd bottled 12,000 liters of wine last season.
A warm welcome from the Ljutomer High School:

The girls won about half their debates, and they were quite a hit at cultural night when they taught everyone to dance the halay, a popular Turkish folk dance. It was Damla's sixteenth birthday that night, so we treated everyone to a splendiferous chocolate cake with orange marmalade filling.
Our girls demonstrating the halay–soon to be joined by a long line of participants
(Ege, Lara, Damla, Ece, Cansu, and Pelin)

Sunday morning we arranged a private morning tour of Ljubljana. The sun, hidden behind a dense fog for three days, finally broke through for us. We rode the funicular up to tour the Ljubljana Castle,
A view of the castle and city from the Tower ramparts:
Pelin, Cansu, Damla, and Lara atop the tower:
And their descent back down the spiral stairs–
 then our driver/guide Marco brought us into the old city, where we wandered through a Christmas market that meandered along the river through the Medeival Old City.
Me posing on one of the city's ancient bridges over the Ljubljana River:
We finished our tour by touching the tail of the dragon that guards the bridge, a reminder that Jason and the Argonauts slayed a dragon there in ages past. Well, he might have…
Dragon bids us a final farewell.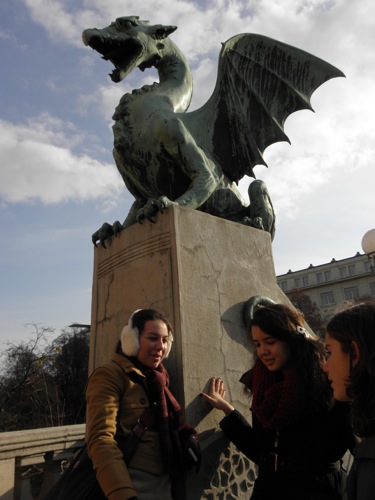 Our flight was late coming home, and we were exhausted. Maybe that's why it happened. I grabbed a taxi from campus to pick up Libby and drive us home, but when I got to my front door—no key! No backpack!!! ARAUGHH!!!!!! I screamed for the taxi to wait, but no pack. I must have left it in the service bus from the airport.
.
Libby had a sore paw, so I carried her the half-mile to campus to retrieve my hidden key, falling flat on my face when I tripped on the speed bump. I was WIPED—but luckily, not badly hurt. I got into the apartment and took stock. The pack had my computer, my camera, my cell phone (as well as the school's), gifts for people who had subbed for me, student projects, and about 800 Euros. I was pooched. I tried to convince myself that it was only "things", but the reality was that if it wasn't found, I'd be out about $4000. What a dope.
When I couldn't sleep, I made myself a hot cup of salep, only to spill it all over the quilt and the bedroom floor. Cleaning up the mess woke me up even more, but I treated myself to yet another cup–more carefully.
.
The next morning (after oversleeping nearly two hours) I went to the Gursel service bus office at school, where Murat kindly searched out the phone number of our driver, called him, and learned that he had checked the bus and found nothing.
.
TOTAL PANIC! I turned next to the headmaster's secretary, who contacted the guards, the local taxis, and began her own investigation, while I climbed up to my office and tried to settle down and do some schoolwork. Right. By then I was a basket case, shaking from the inside out.
.
At 10:00 I got a call from Murat. They had located my pack. RELIEF! "I'm sorry, but I can't pick it up until tomorrow. You will have it at the end of the day. Is that O.K.?"
.
"No problem!" I exclaimed. "I'm just thrilled you found it. How can I thank you?"
.
"This is my job," he said. "I'm happy to help you."
.
The next afternoon I went down to Murat's office, and there it was, waiting patiently for me. He had me check to see that everything was there, and it was, down to the last euro. Amazing.
.
"Is there someone I can reward for this?" I asked.
.
"Of course not," he replied. "What we always say is that Gürsel is your home. We are happy to help you."
What can I say?