Just what the world needs: yet another tour guide. Oh, well—my humble addition to the ranks is finally on the bookshelves—in Turkey, at least.
The BOOK!
Here's how it happened:
During my first year teaching in Istanbul, Tania Chandler and Jamilah Lajam introduced me to Edda Renker Weissenbacher's fascinating tours through the back streets of Istanbul. I'd never heard of a han (an ancient inn) and never would have guessed that Constantinople once teemed with them. I was captivated by my first Edda Tour, which finished on the rooftop of the Buyuk Valide Han overlooking a stunning vista of Istanbul, the Marmara, and the Golden Horn. To top it off, as we gazed across the water at the Galata tower, the air swelled with a cacophony of muezzins chanting the Koran verses of the call to prayer. I was entranced.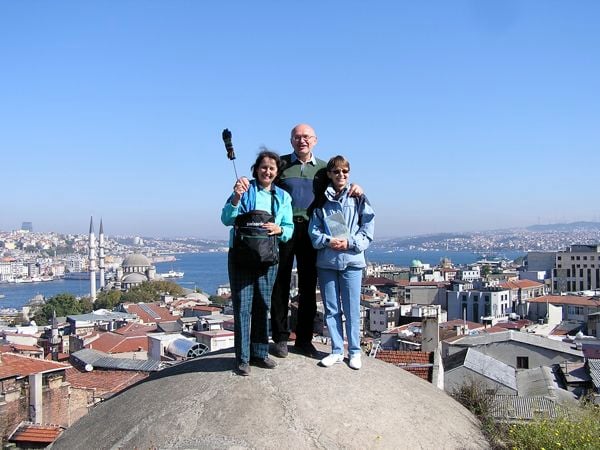 Edda and friends on the roof of the Büyük Valide Han
After my second Edda tour I was struck with a thought. Why not make these tours available to anyone who visits Istanbul? At 70, Edda was unlikely to lead too many thousands along her back street tours, which meant they'd all miss out on this amazing experience. BUT—we could compile them into a book of self-guided tours. "Would you be interested in collaborating on a book of your tours, Edda?" I asked, a little worried that she might find my suggestion presumptuous.
"What a wonderful idea!" she answered brightly. "I'd love to!"
Me and Edda outside the Süleymaniye Mosque, writing partners!
Once we'd discussed some of the details of the project, I pounded out a book proposal. Then I visited Greenhouse Books to browse through Turkey guides and hopefully identify prospective publishers. My first choice was Çitlembik, an Istanbul publisher that produces a variety of books on Turkish culture and tourism in both English and Turkish. I was astonished to receive an immediate reply from director Nancy Öztürk. She was excited about the project and wanted to sign us on. HOORAY!!!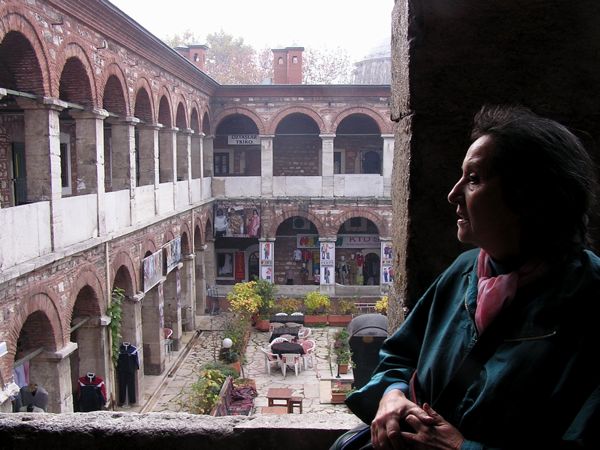 Edda at the Taş Han, where the first tour begins
Little did I realize that though Edda has a good decade on me, her energy for this project would far outweigh mine. She led me up and down the cobbled streets of Istanbul as I snapped photo after photo. Over 2,000 of them, in fact (photos, not streets). Early on, I often lost my way between the Grand Bazaar and the Egyptian Spice Bazaar, but it wasn't long before I was very much at home on those narrow, cobbled streets.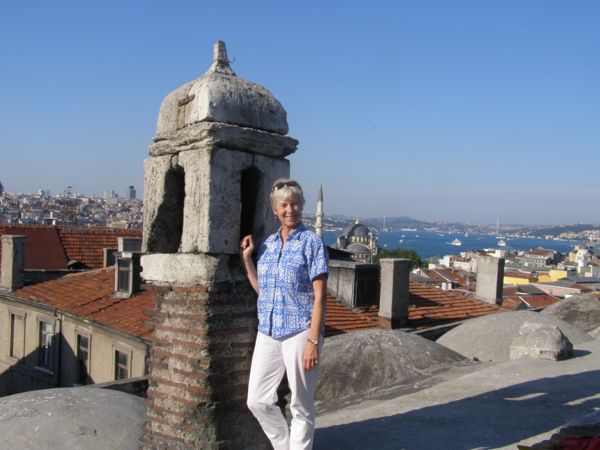 I'm standing on the roof of the Sair Han, another spot that overlooks the city.
I drew careful maps of the tours we'd include in our book, re-routed them so they'd follow one after the other, and expanded on the descriptions that Edda provided of each of the nearly ninety sites. Four walks, hundreds of photos, and the combined efforts of two enthusiastic women. Ah, collaboration!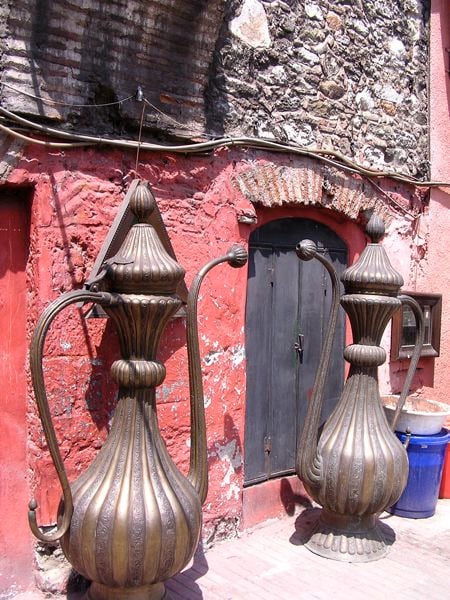 The Cebeci Han's people-sized ewers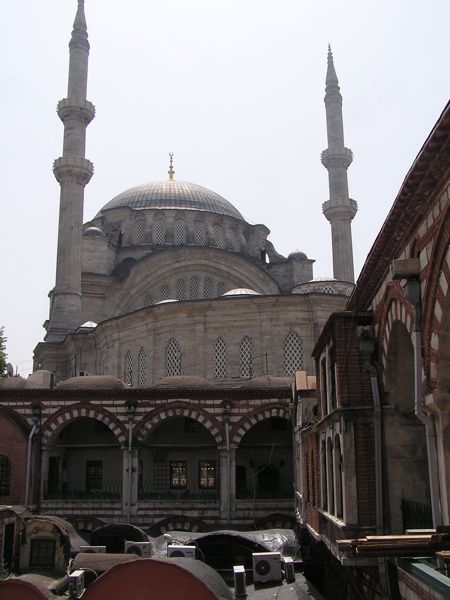 The Çuhacı Han, where goldsmiths work, with Nuru-osmaniye Mosque behind.
A gold shop window in the Çuhacı Han
The Süleymaniye Mosque
The Süleymaniye Medreses
The Istanbul University Gate
The courtyard of the Zincirli Han, within the Grand Bazaar
In June of 2007, Edda and I parted. She left Istanbul to spend the summer with her husband in Austria, and I returned to Minnesota. It took me a while to settle into a routine, but I wrote four hours a day through September, October, and even more in November. We'd promised to turn everything in by the end of November, and I flew back to Istanbul to retrace my steps, correcting the maps, shooting final photos, and finishing up interviews for mini-features of merchants and craftsmen along our routes. What an undertaking it was!
An article on Bedros Muradyan, one of 18 features in the book.
Edda was back in Istanbul that November, and we trekked, chatted, and laughed together as we finalized everything. Edda had just bought a new Mac laptop, and she was like a sponge, eager for everything I could teach her about Macs. She never ceases to amaze me—and she's a meticulous editor, to boot.
Well, two years later, our book is finally out: Istanbul's Bazaar Quarter: Backstreet Walking Tours. Its 182 pages are 30 more than expected, but it offers what we'd hoped: a clear, well-researched guide to the hans, mosques, and bazaars of Istanbul's Bazaar Quarter. The book's four self-guided tours draw its readers back through over a thousand years of this amazing city's history.
The cascading domes of the Rüstem Paşa Mosque
Rüstem Paşa Mosque, one of the city's most charming, is hidden near the Spice Bazaar

Whew! At last! And next week we're celebrating with a book-signing event at the Koç School, complete with food and live music. Never a dull moment over here!
Now, back to my memoir about teaching in Istanbul…