Thanksgiving Day in America is Teacher's Day in Turkey.
I've never felt more honored than I do on Teacher's Day, but it seems a shame to divide one day between two holidays. I guess that's just the way it goes, huh?
Someone wrote and asked if I'd be having turkey, but I honestly don't know. School lets out early for Teacher's day, and Robert College parents are hosting a gala Teacher's Day celebration at Bizimtepe (their country club adjacent to the school), complete with a lavish buffet of Turkish delicacies and an array  of adult beverages. Later we're having a Thanksgiving potluck at school, and all fingers are crossed that someone will come up with a turkey.
I'm not taking any chances, though; I'm bringing the dressing—turkey-less, but dressing nonetheless. What's Thanksgiving without bread stuffing? I mean, really! My mom's was the BEST, and her secret ingredient was chopped apples. One year my aunt hosted Thanksgiving, and she had the audacity to put GIBLETS into the stuffing, ruining my entire holiday. My turkey-less stuffing has apples, but it's a little lean on celery (I did finally find some). The good news, though, is that I found fresh sage. It's called adaçayı here, which I think translates to 'island tea.' Whatever—it smells great. I had to crush it in my palms, filling the kitchen with a tempting eau de Thanksgiving.

Someone else asked if we had pumpkin pie here. Nope. My friend Arvid wrote on facebook about making pumpkin cheesecake (a step up from pie), and I must admit even the thought made my mouth water.
I have one even better than Arvid's, though. A Turkish pumpkin treat. After the bayram break my student Pelinsu arrived at school with a package of kabak tatlısı (candied pumpkin) from her home in Antakya, an area known for that delicacy.  Ask if I felt honored. This sweet pumpkin dessert is one of my favorites here in Turkey, probably because it's not overly sweet. Just for your information, Turkish pumpkins are big, white on the outside, and hard as rocks. Some stalwart soul peels and chops them into pieces, after which they are simmered in sugar syrup, grape molasses, or honey. The Kabak tatlısı is then cooled and served sprinkled with crushed hazelnuts or walnuts.
Pelinsu's gift was a step up from the usual, a little more candied than I was used to, but problem yok! Here's what a piece looked like fresh from the package:

When I found the recipe, I learned that Antakya kabak tatlısı has equal parts pumpkin and sugar, and it's cooked until the kabak is almost translucent. VERY sweet. I like to cut sweetness with a little yogurt, so I cut up my kabak,
then dolloped each piece with a little yogurt (the yogurt here is sort of a cross between yogurt and cream),
and  sprinkled it all with nar (pomegranate) seeds for a spark of nutty tartness.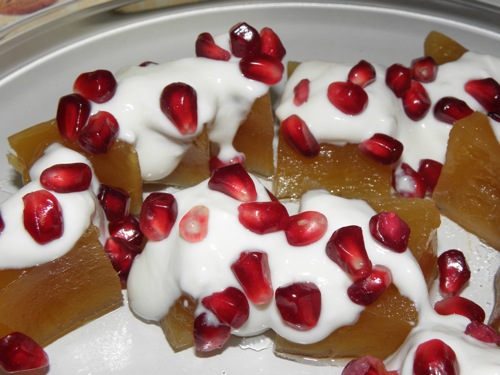 Let me tell you, pumpkin pie could never compete with this amazing delicacy. YUM!!!!!
When in Rome…
(Or Istanbul…)