Robert College just treated me to the most magical theater experience of my life. Really. And—it was SHAKESPEARE!!!
It was the brainchild of Charlotte Şamlı with Jason Shulha and a host of teachers and students. I'd love to share the enchantment of this production that showcases not only the talents of RC actors, but the stunning beauty of our campus in bloom.
Come, join me for this tribute to the bard, "Shakespeare on the Green"…
We begin our evening at 6:30 in a small outdoor arena known as "The Maze," where our student body gathers for the first day of school, fire drills, and emergencies. Teachers in Elizabethan garb welcome us with an enigmatic program on a full-color map. Hmmm… We seat ourselves on bleachers under spreading chestnut trees (I kid you not—in full bloom), wondering what adventures await.
Teachers prepare to read the prologue.

The air fills with trumpets announcing our actors, who file in to perform an Elizabethan dance, precisely executed.
No one cracks a smile.
Elizabethan dancers in all seriousness
Shylock and Peaseblossom focus on the dance
Actors exit.
Teachers remain (six).
They read from scrolls—a Shakespearean prologue? We are then divided into three more-than-curious groups. Ours is lead by Lady Marita, who regally guides us up the walkway to an outdoor arena.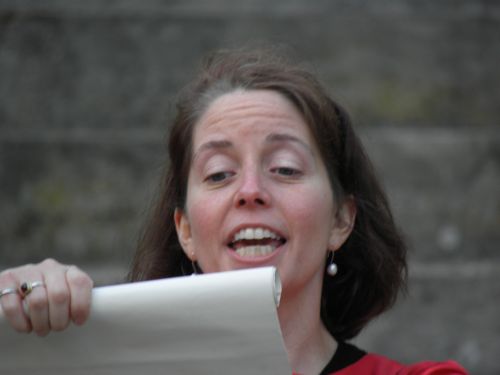 Lady Marita announces the evening's festivities
And we wait.
Finally, a swell of Elizabethan music announces the beginning of the festivities, and we're treated to the courtroom scene from A Merchant in Venice. We are engrossed in Portia's clever machinations as she first permits Shylock his demand of his adversary's pound of flesh (from his chest), then specifies that he must do so without shedding a drop of blood. From there she executes his financial ruin. The acting is superb, and even the shakiest English speakers in the audience are enjoying themselves.
The "Duke", Bassanio, and Antonio in The Merchant of Venice
Shylock "lords it over" Portia, an astute attorney
We are greeted by another "guide" (Lady Alison), dressed in gilt red, who leads us up a road through the woods. Our small group is divided in "twain". Once we find seats on a small deck, she VERY clearly explains the plot of Macbeth. Before we know it, actors appear from behind a building. Lady Macbeth is sleepwalking again—wringing and wrenching her hands to rid herself of that "damned spot". A compelling performance, absolutely.
A sleepwalking Lady Macbeth scrubs at her guilty hands
Afterwards, Lady Alison performs a short soliloquy while Squire Jake (another teacher/guide) fawns on her from a nearby railing.
Squire Jake fawns on his coy mistress
After that, the squire launches into his own monologue before leading us through a narrow woodland path, pointing out plants and waxing prosaic as we walk. We pass an actor in red (Macbeth?), frozen in the brush with his back to us.
What scene but the witches could lie ahead? We buzz with excitement as we round a curve to be met by three yowling and screeching green-faced witches. "Double double toil and trouble. Fire burn and cauldron bubble!"
"Double, double, toil and trouble…"
Another amazing performance as they taunt Macbeth and as Banquo's ghost reveals the prophesy that "no man of woman born" can harm him, that he will be safe until "Burnam Wood comes to Dunsinane." Not good news for Macbeth (at least for those of us who know the rest)!
The witches welcome the ghost of Banquo
It's growing dark, and the air is cooling. I'm thankful to have gloves and a warm scarf as we are taken to meet the other half of our group for the next stage (pardon the pun) of our adventure. Sir Joseph Welch downs a swig of liquor and jumps atop a picnic table to begin his monologue—a drunken soliloquy on the seven ages of man. Ah, Much Ado About Nothing—and it is!
Sir Joseph decries the Seven Ages of Man
Totally entranced, we follow him to lawn chairs arranged at the bottom of the hill below Sage for…it HAS to be A Midsummer Night's Dream. What else could it be with a bower of velvet cushions under boughs strung with ribbons and streamers (and wine corks)? The sun is setting, and our woody "set" is illuminated from multiple directions.
Faerie Queene Titania is sung to sleep by her faeries.
The first to emerge are the Bard's whimsical woodland faeries, Peasblossom and Mustardseed, soon joined by Puck, the rascally imp who delivers a magic potion. Remember the story? Titania the Faerie Queene is tricked by her lover, Oberon with a potion that will make her fall in love with the first being she sees.
Faerie King Oberon resists the charms of Titania
Bottom the Weaver comes to practice his play (art teacher John Dew), and he is magically transformed into a donkey, which Titania falls madly in love with. Enough said—it was HILARIOUS! Bottom has us in stitches, and the talented ensemble holds us entranced through the entire antic-filled scene. BRAVO!!!
Bottom the Weaver transformed "to an ass"
Bottom revels in Titania's adoration
We hardly notice that we're shivering, yet we're thankful for a break to get hot drinks in the Maze. WHEW!
After intermission everyone is gathered at the bottom of the Gould Hall walkway for a boisterous performance of Falstaff—including the entire acting ensemble. Hilarity abounds, and we try to follow Falstaff's ribald humor as best we can.
A female Falstaff downs a brew with her cronies.
After that we move en masse up the hill to seats arranged beneath the Gould Hall steps. The air is heavy with the sweet scent of wisteria, and Lady Marita emerges to introduce her ninth grade class's Ottoman rendition of Romeo and Juliet—the fight scene where Tybalt kills Mercutio and Romeo revenges his death by slaying Tybalt. As dramatic as it is, it's hysterical with all the Ottoman twists—the local sultan scolds the Kapul and the Mantuk families. We cheer wildly, amazed that these actors have stayed in character in spite of everyone's mirth.
The Ottoman Montagues—the Mantuks
The Ottoman Capulets—the Kepul Family
Last, but certainly not least, is the Romeo and Juliet balcony scene, expertly choreographed and executed. Juliet opens the scene sighing from her balcony above the wisteria ("Romeo, Romeo, wherefore art thou Romeo"),
Juliet on her wisteria-laden balcony
while Romeo fawns on her from below. "Oh, that I could be a glove upon that hand…"
Romeo speaks lovingly of his Juliet.
Juliet suddenly—magically—appears beside Romeo on the Gould Hall steps, and they entrance us with their passionate performance. At last, a scene that we all know and love.
The marriage pact is shared.
Thanks for joining me for this stunning performance.
And kudos to the creative spirits who made it possible.
Incredible!
L to R, Oberon, Bottom, Mr. Shulha, Ms. Şamlı, Squire Jake and Sir Joseph