Friday evening didn't start off all that well for me. I need new glasses (badly), so after school I trekked over to Kadıköy to visit a recommended optician. Well, the glasses appointment took a bit longer than I'd planned—mainly because Ali Bey spent a long time talking me into some very cool glasses, then dropped the price bomb. $1100. Really. "NO WAY!" I said. "I'm only a TEACHER!" (in Turkish, of course). Who spends that kind of money on glasses? Not me. It meant we had to start all over again, but in my price range. Sigh…
The beloved Istanbul Ferry from the European to the Asian side
Frazzled, I hurried to the ferry, crossed the Bosphorous, and hopped a bus. I nearly sprinted up the hill to my apartment to take a quick shower and get Libby out for a short walk. It was 8:30. The dinner at the Mehane was starting at 9:00, and there was no way I'd be there on time. Geez–I thought I'd had so MUCH time to spare. Typical.
So, anyway, I trekked back down and got to the bus stop about 8:45. Not too bad. I texted Erica that I'd be a little late, then waited. And waited. And waited. Sigh…
At long last a VERY packed bus pulled up. As I rode (sardine style), I debated taking the funicular up to Taksim Square, but my recollection was that the restaurant was near the lower end of Istaklal, so I decided to go a bit further and take the Tünel up from Kabataş, which I thought (wrongly) would put me closer. Imagine my reaction when I got off the tram and realized that the Tünel was closed. ARAUGHHH!!!!
The Galata Tower at night (halfway up the hill)
That meant I had to hike up a steep hill of narrow cobbled streets past the Galata Tower—alone. I noticed a woman about my age just ahead of me, so I caught up with her and started chatting. An English teacher, too, she was just returning from an evening school event. She was interesting—I wish I'd asked for her card. Oh, well…
Long story short, after much MIS-direction, I FINALLY found the meyhane, which was actually closer to Taksim Square than I'd thought. I arrived around 10:00, exhausted, sweaty, and starved. Everyone was well into both devouring and imbibing, and the meyhane was in full swing.
A hearty teacher's welcome!
The lovely Melissa with her Turkish husband Orhan
"What's a meyhane?" you ask.
Good question. It's a Turkish restaurant that serves alcohol, generally a fairly rowdy venue. Also known as a tavern or cabaret, many meyhanes offer live music, and it's not uncommon to have people dancing on the tables before the evening is out. The Çardak Meyahnesi was no exception. My friend Erica and her husband Erdem had organized the evening for us,
Erica and Erdem, our evening hosts
a group of about thirty teachers and friends enjoying mezes (hors d'oeuvres), dinner, drinks, and live music for an all-inclusive price of 60 YTL ($40). We were a mix of yabancis (foreigners) and Turks, all sharing the same love of interesting company, good music, dancing, and laughter.
I have to admit, Marita's husband Duff was the star of the evening: the first to get up to dance, he kept bopping, imbibing, and beaming all night.
Mr. Duff launching from chair dancing into the real thing
Turkish dancing is a little different from Western dancing; you keep your hands up and moving. It's kind've a cross between Zorba and the hula, I guess. Following Duff's lead, the rest of us got up and danced—and danced—and danced—until the wee hours.
And soon we were all on our feet–note Duff in the background.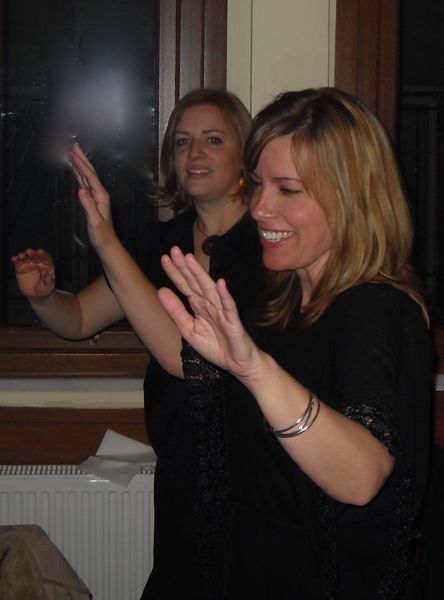 Everyone danced the night away.

Food was continuously served throughout the night, as were a bevy of beverages. We merged with other diner/dancers on the balcony as the musicians played non-stop from 9:00 until who-knows-when. What stamina!
Looking down on the musicians and diners on the main floor–oh, so dizzy!
So, my friends. That's a meyhane.
I have to admit, I wouldn't mind attending another one, but perhaps next time I'll limit myself to ONE rakı. This traditional anise-flavored beverage is not to be taken lightly.