It's all about theater—well, friends first, then theater. I've had my sights on London since I first came to Istanbul, but between the high cost of airfare and hotels, there was no hope. Enter Easy Jet. It's brought airfare within reach, and with some serious searching, I found a hotel that wasn't totally outrageous. So—off I flew!
I arrived on Red Nose Day, a huge charity fund-raising day in England. Everywhere you turned, someone was sporting a clown nose. I even spotted a few on Saturday—the day after. This year Red Nose antics raised a total of nearly 58 million pounds—about 82 million dollars. Now THAT'S IMPRESSIVE!!!!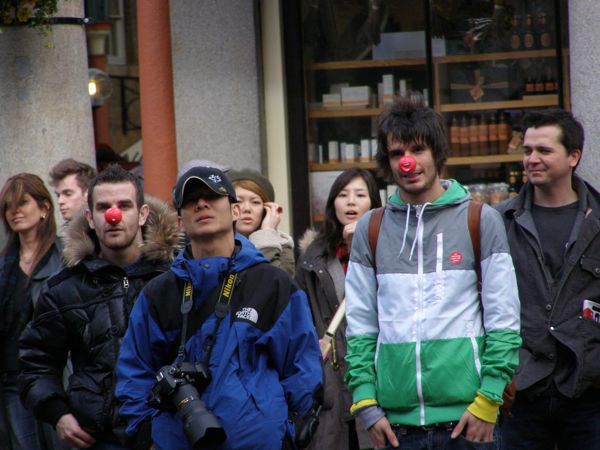 A few red noses on Saturday
Friday night three friends and I met in at the Victoria Theater for Billy Elliot, a truly powerful musical. Set with the backdrop of Britain's year-long miner's union strike of 1984, young Billy Elliot traded his boxing lessons for ballet class. His father, already stressed by the strike, nearly blew a gasket when he found out. Elton John's music evokes feelings from elation to angst to anguish as the story progresses. I doubt there was a dry eye among us as we stepped outside after the show, still shaking our heads in wonder at this gifted young dancer (about 11 years old) and the rest of Billy Elliot's amazing cast. A GREAT start for my theater weekend.
http://www.workingtitlefilms.com/featurePhoto.php?featureID=18
Saturday my friend Larry and I wandered Covent Garden most of the day— loverly. (It IS where Liza Doolittle sold flowers in My Fair Lady.) Unlike the bevy of flower and vegetable vendors it once was, Covent Garden is now a tourist spot. It still features an open market, but vendors now offer clothing, jewelry, and gift-type items. Pretty intriguing ones, at that. There are also shops, cafes, and restaurants to suit any taste
My favorite thing about Covent Garden, though, is the buskers. Musicians, jugglers, mimes, and you-name-it draw crowds of onlookers to every cobbled street and lane.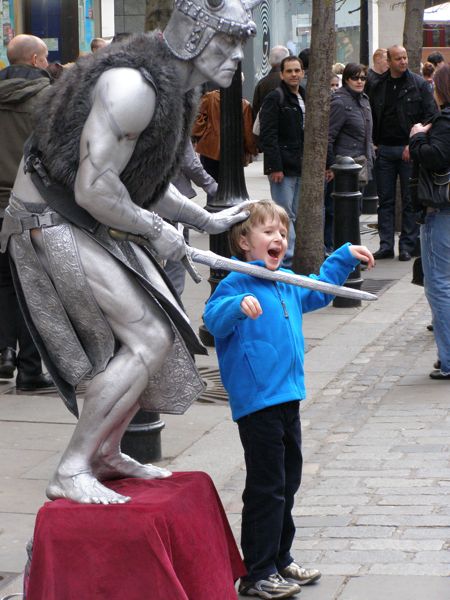 I'm not sure who's the better actor!
one of many buskers—the man in the red derby
a knife juggler in a green beret—on an 8-foot tall unicycle!
A Chinese man plays the Sheng, a precursor to the pipe organ and the bagpipes.
We watched string quintets (very talented) who performed stunning acrobatics as they played without ever missing a note. A brilliant tenor entertained his extensive audience by removing a woman's boots and donning them himself as he sang an aria from Carmen. Then he wrapped another woman's scarf around his neck. Go figure! He was sheer delight, and the women he "stole" from were both charmed and charming with him.
a multi-talented chamber quartet performs acrobatics
a music aficionado among the masses
the tenorial robber
The tenor sings his final notes—a virtuoso!
After a pub lunch, Deidre, Larry and I trekked to the Noel Coward Theater, where we had box seats for Avenue Q, an x-rated version of Sesame Street. It's about Princeton, a recent university graduate with no money who is trying to "find" himself. I blushed for the few children in the audience, as the music was more than risqué. In fact, the songs were hilarious. Just imagine puppets and their actor counterparts singing "It Sucks To Be Me,"  "Everyone's A Little Bit Racist," and "The Internet Is For Porn", a spirited dispute between the sweet little monster named Kate and the more earthy internet-surfing Trekky Monster. Need I say more? If you have a chance (and you're not a prude), be sure to add this play to your list.
You can tell  it's not a children's production…
<http://nationaltheatre.org/mainstage/avenueq.htm>
We wanted to catch dinner afterward, but as you may know, England isn't renowned for its cuisine. Pub lunches are usually good, while the best evening option is ethnic food. We went to an Indian restaurant, the Govinda, where we had a delectably spicy vegetarian meal—cheap (at least for London). The  Govinda is a Hari Krishna restaurant, replete with interesting characters. Later that evening we encountered them again on their evening processions, singing and dancing their way through the streets of Soho.
Truly London—the signpost and the phone booth
I was so, so impressed with this solar-powered parking meter.
…and in Hyde Park, "a host of golden daffodils." (Thanks, W.W.)

Sunday morning I was on my own, so I walked Hyde Park in the early morning sunsine. It was great to just walk, walk, walk. The daffodils were "nodding and dancing in the breeze" while the Bobbies were cruised the walkways, ever on the alert. After a long walk to Victoria Station, I found it hard to hop on the bus for the airport. Oh, well. All good things must end, eh? I seriously think I'll plan one more trek to London. Want to join me?